Paris goes into magic mode
Brrrr winter is back, yes but so are its illuminations, its traditions, its sweets and its magical atmosphere! For us, it's one of our favorite periods to enjoy Paris! Follow us, we share with you our biggest favorites to live a magical winter.
Admire the most beautiful Christmas decorations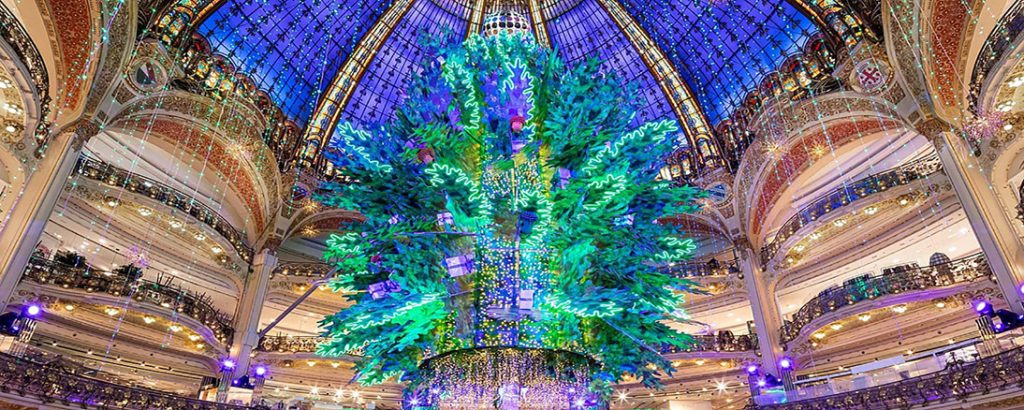 The streets are lit up, the little chalets take over the city, Maria Carey and her eternal "All I want for Christmas is you" wins our minds little by little and a certain enchanted atmosphere inhabits the streets of Paris…
Here we are, Christmas is finally here in our dear capital.
As every year, the Galeries Lafayette, located only a few minutes away from the hotel, put the package to amaze us!
Under the magnificent dome of the department store has arrived a majestic tree named Nordmann. You can follow its adventures through the animated windows of the boulevard Haussmann that trace the fantastic epic of this tree, straight from the planet Elato.
Galeries Lafayette
40 boulevard Haussmann
75 009 Paris
Assistez à un concert unique, au milieu des bougies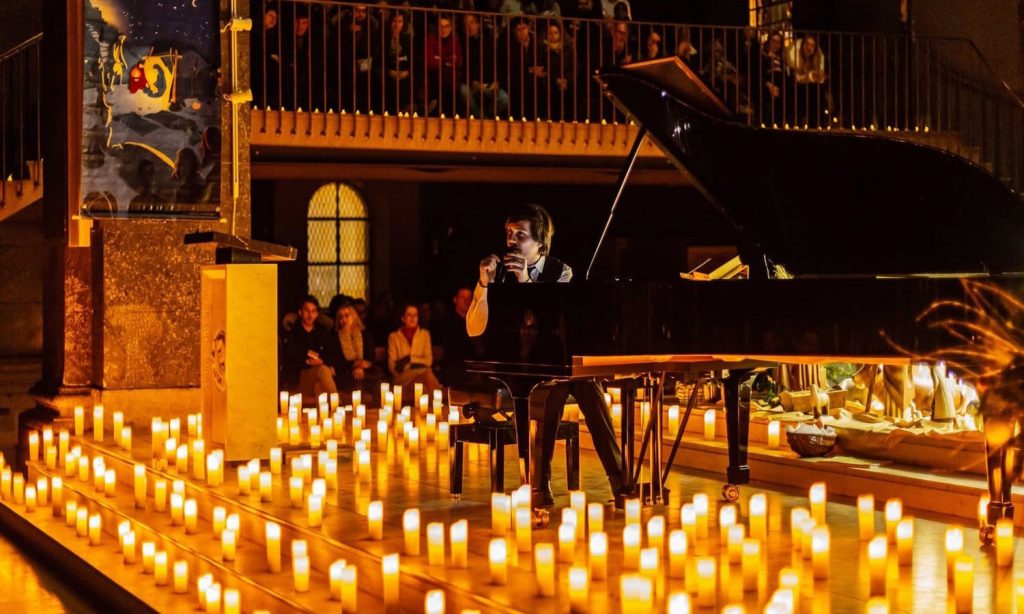 After Barcelona, London and New-York, CandleLight is now in Paris!
Enjoy a candlelight concert in one of the most emblematic places of the city.
The Cabaret Sauvage, the Musée Grévin theater, the INJA, the Marché Saint-Germain, the Maison de l'Océan and even the Eiffel Tower will welcome you to experience the craziest concert by candlelight.
Fans of Chopin, Mozart, Vivaldi, but also the Doors, Michael Jackson or Queen… a varied program, starting at 15€, awaits you in the middle of a bed of flickering candles.
Program and reservation on : https://feverup.com/paris/candlelight?utm_source=parissecret&utm_medium=post&utm_campaign=candlelight_par&utm_content=candlelight&utm_term=cta2
Go for a little log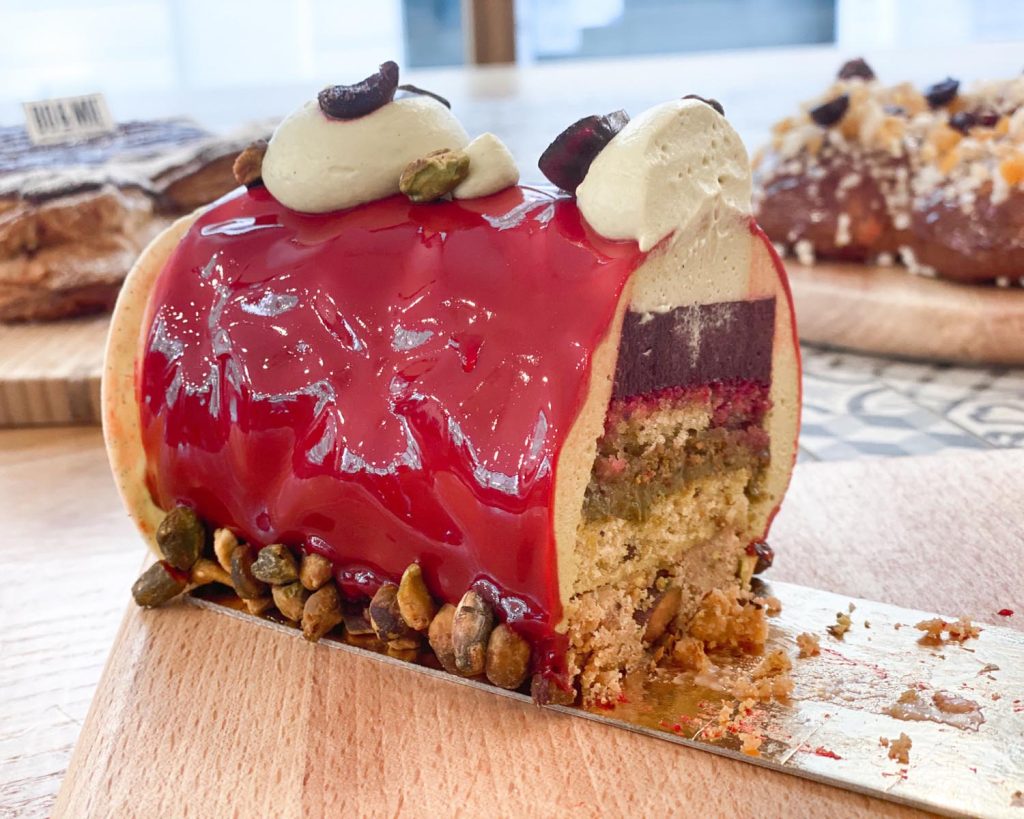 A traditional holiday dessert, the Yule log is a must-have for any end-of-year meal. In Paris, bakeries, pastry shops and great chefs rush to present their creations every year. From the most classic to the most extravagant inventions, you will be spoilt for choice.
Our favorite: the 3 logs of pastry chef Chistophe Carré, from Bo&Mie, whose nearest bakery is in the Louvre, only a few minutes walk from the hotel. The hardest part will be choosing between the flavors of "Let it Snow", "Silent Night" and "White Christmas"!
To be booked on the Bo&Mie website. From 24,90€/4-6 people.
Go for an enchanting walk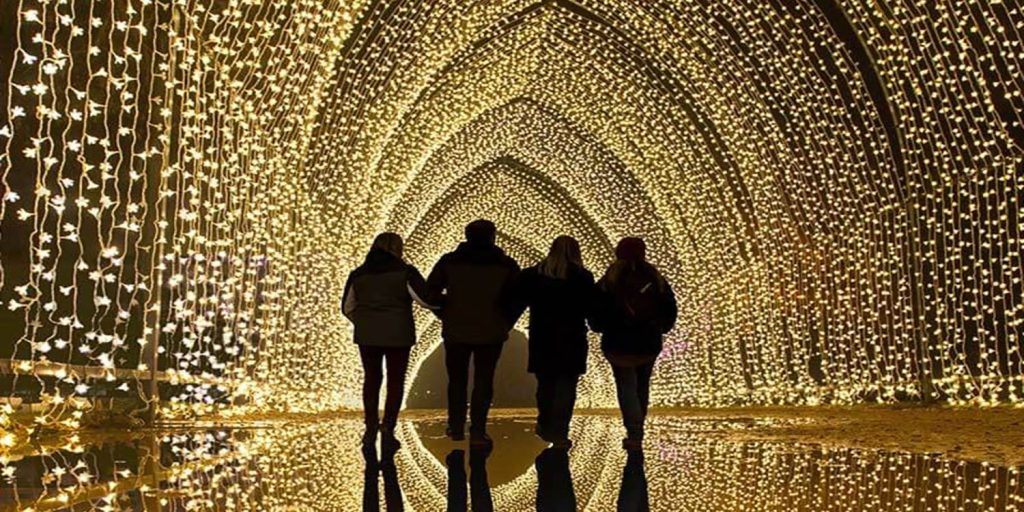 From November 24, 2022 to January 8, 2023, go for an immersive and wonderful walk in the heart of the Parc Floral de Paris.
The "Christmas Light Paths" offer you a 2km long luminous and sound path in the middle of contemporary works. Under the trees draped in light, along the lake and the glittering gardens, you will wander for 1H30, with stars in your eyes!
Reservation on https://sentierslumineuxdenoel.francebillet.com/