Secret Parisian addresses
This month, the hôtel États-Unis Opéra is sharing 5 secret addresses that aren't shown in any tourist books.
From a sweet café-bookshop to the most well-hidden courtyard in Paris, we're lifting the veil on the secret sides of our beloved city. Let's take a walk through out-of-sight streets, open double doors, and enter 4-digit codes.
Le Pavillon Puebla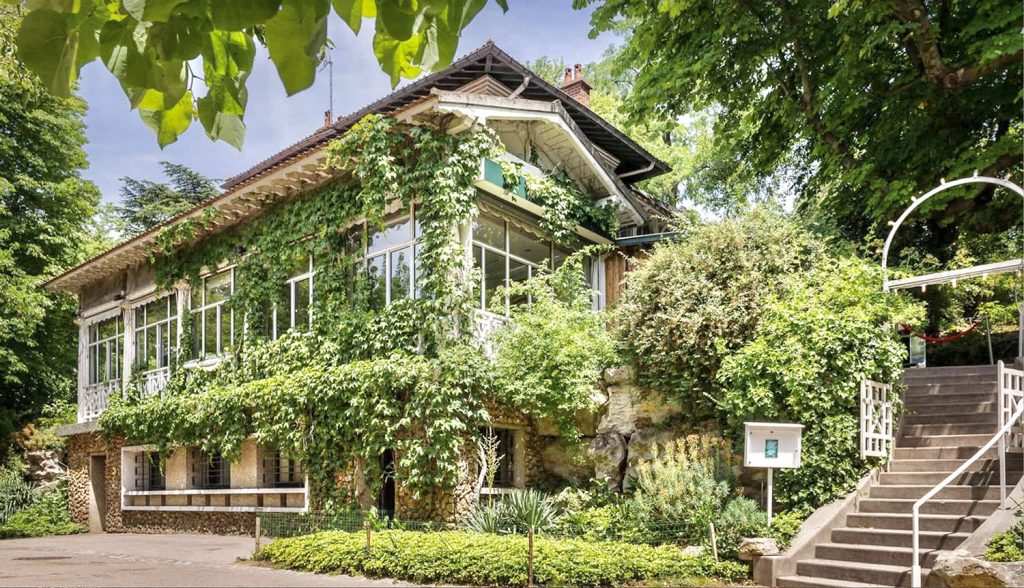 If you thought Paris was only small terrasses, think again!
Hidden behind trees in the middle of the Buttes Chaumont, discover this old hunting lodge over a drink or dinner. It's the perfect place for lovers of a friendly, bohemian ambiance.
Pavillon Puebla,
Parc des Buttes-Chaumont
Opposite of 43, avenue Simon-Bolivar, Paris 19ème
Open Wednesday to Saturday from 4 pm to 2 am and on Sunday from 2 pm to 2 am.
The hidden Cour de Rohan

The Cour de Rohan is hidden a few meters from boulevard Saint-Germain et place de l'Odéon, an intriguing Parisian curiosity that even most citydwellers know nothing about. But it is more than a courtyard: The row of 3 small courtyards seemingly suspend time.
If the gates are open, feel free to push past them and discover the Paris of yesteryears. This was where notable artists came to be inspired and it's said that Georges Bataille organized parties frequented by Sartre, Simone de Beauvoir, and Camus.
The entrances to Cour de Rohan are neighbored by Cour du Commerce Saint-André and rue du Jardinet, a few meters from Le Procope, Paris's first café. Your decision to venture into the courtyard is rewarded by a spectacular sight: Various styles of architecture joined together by greenery, a truly curious and marvelous balance.
Cour du Rohan
Next to Cour du Commerce Saint-André and rue du Jardinet, Paris 6ème
The Halle Saint-Pierre Café-Bookshop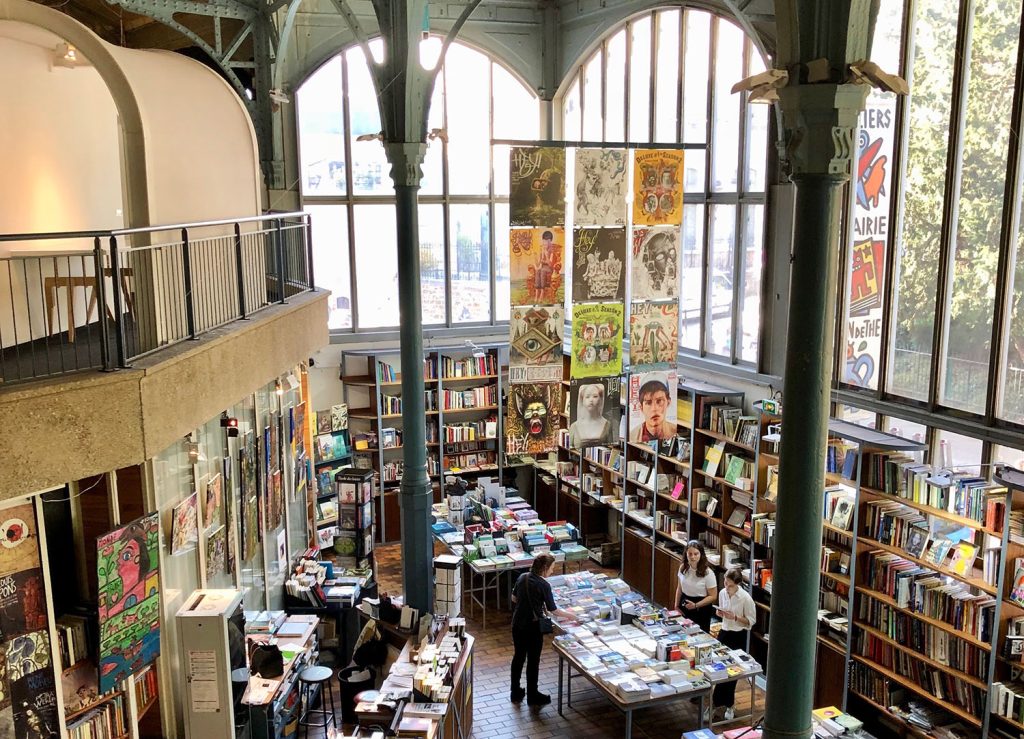 Halle Saint-Pierre, a simple marketplace 25 years before, holds various temporary expositions and doubles as a bookshop. A small island of clarity and calm hidden in the shadows of Sacré-Coeur offers a private atmosphere for those seeking warmth around a small coffee.
One thing's for sure, no tourists can be found in the place du Tertre!
Halle Saint-Pierre
2 rue Pierre Ronsard, Paris 18ème
Open Monday to Friday from 11 am to 6 pm, Saturday from 11 am to 7 pm, and Sunday from 10 pm to 6 pm.
Square Saint-Gilles Grand Veneur, a Rose Garden in the middle of the Marais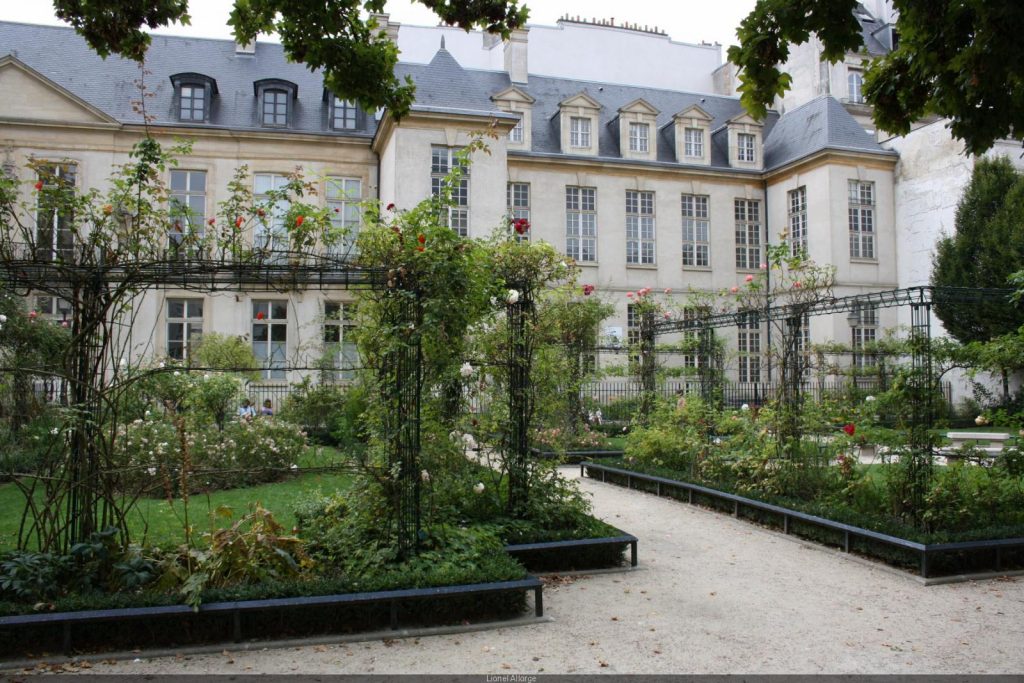 This is THE romantic spot to take your partner: A secret, beautiful rose garden found in the heart of the Marais.
It's one of the capitals least-known gardens, tucked away from the street and only accessible by walking down rue de Hesse and crossing the porch acting as its entrance.
Square Saint-Gilles Grand Veneur
Walk down rue de Hesse or rue des Arquebusiers and cross the small porch in front of you. Paris 3ème
L'hôtel de la Marine
Though its reopening took a bit of time, it was well worth the wait. Hotel de la Marine is an emblematic monument of place de la Concorde and a Parisian heritage that takes you to the heart of the 18th century. A royal storage unit where the royal furniture was bought and stored.
Despite not being as well-known as the Louvre and other tourist-packed Parisian museums, its time will come!
Visiting the apartments is like entering a movie, the era's universe becoming almost life-like. "Le Confident", an innovative, connected headset immerses you into a unique experience:
Life at court during the Age of Enlightenment with its characteristic melodies, discussion, people, and noises.
And if you want to continue your experience, why not quickly visit Café Lapérousse before you leave!
Hôtel de la Marine
2 place de la Concorde, Paris 8ème
Open every day from 10:30 am to 7 pm.