Paris's Best Hidden Bars and Restaurants
This month, the Hotel Etats-Unis Opéra has toured the capital to find the best addresses for hidden and "secret" bars and restaurants.
Discover the addresses that only a select few are aware exist.
"Caché" in the 20th arrondissement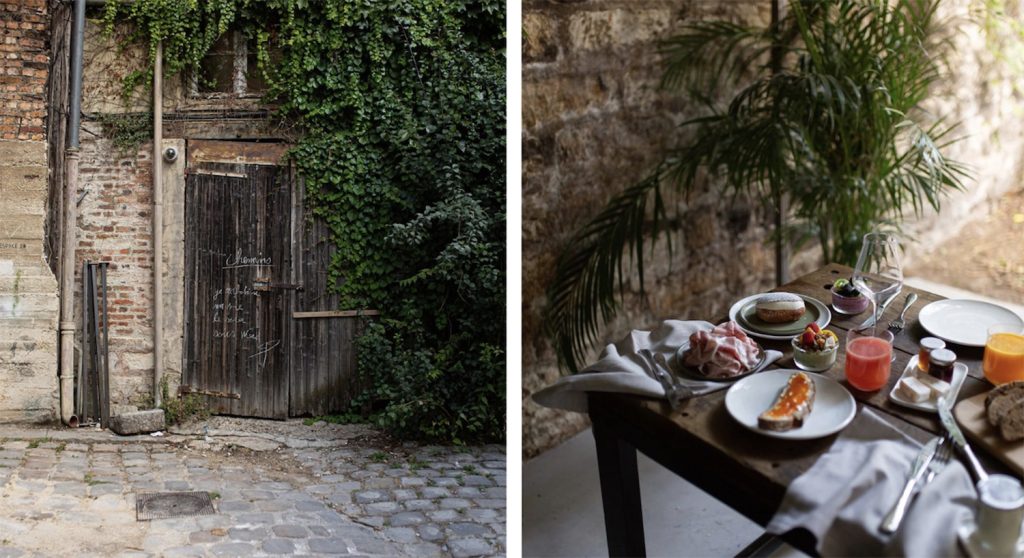 Placed in a delightful dead end in the 20th arrondissement right next to Père Lachaise, the restaurant "Caché" ("hidden" in English) has chosen its name well.
In a printing house turned loft, Caché contains is a refined, designer restaurant offering well-made and seasonal dishes. On weekends, you can even come and have brunch there.
In addition, it houses a secret cocktail bar with a cozy and intimate atmosphere.
RESTAURANT CACHE
23 Villa Riberolle – 75 020 Paris
Open Tuesday to Saturday from 7 pm to 2 am and Saturday and Sunday from 11 am to 5 pm.
Brunch: €38.
Tel: +33 01 71 39 54 51
https://www.cache-paris.com
"Le Derrière" in the 3rd arrondissement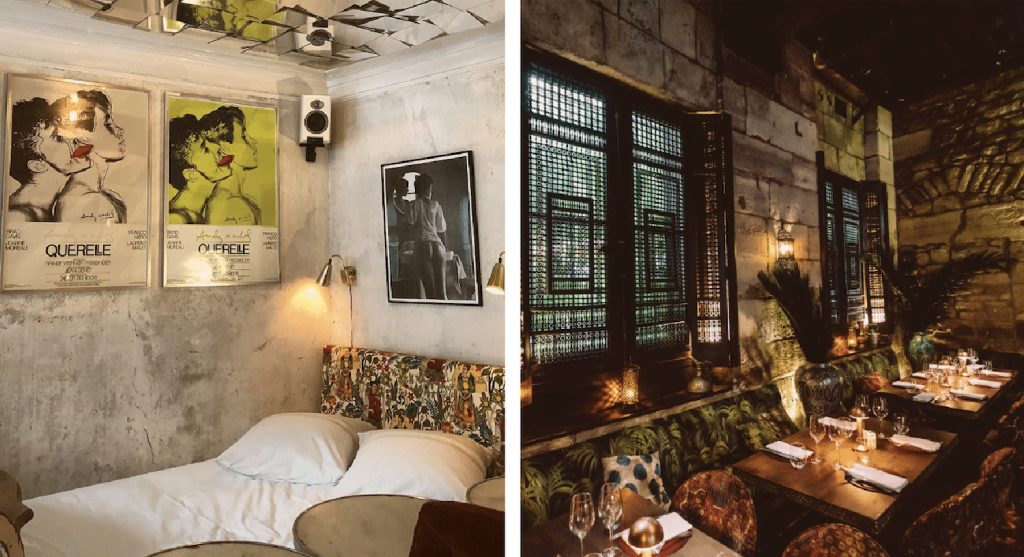 Ping-pong table in the living room, cozy bed as a bench…
"Derrière" takes making people feel at home to heart. Its heterogeneous decor and its apartment-style floor plan will make you feel like you've been invited for an evening with the most Parisian of your friends.
The family kitchen will further reinforce this "just like home" ambiance.
Huge shout out to the the casserole with porcini mushrooms as a starter, a real treat.
A very popular address that requires reservations!
PS: Will you be able to find the secret room? Here's a clue, it's behind a mirror…
LE DERRIÈRE
69 Rue des Gravilliers – 75003 Paris
Tel : 01 44 61 91 95
Open every day from 12 pm to 2:30 pm (12 pm to 4 pm on Sundays) and 7:30 pm to 11:30 pm
Lunch menu: €24. A la carte dishes: ranges from €24 to €36. Brunch: €39
https://www.derriere-resto.com/
"Gocce" in the 9th arrondissement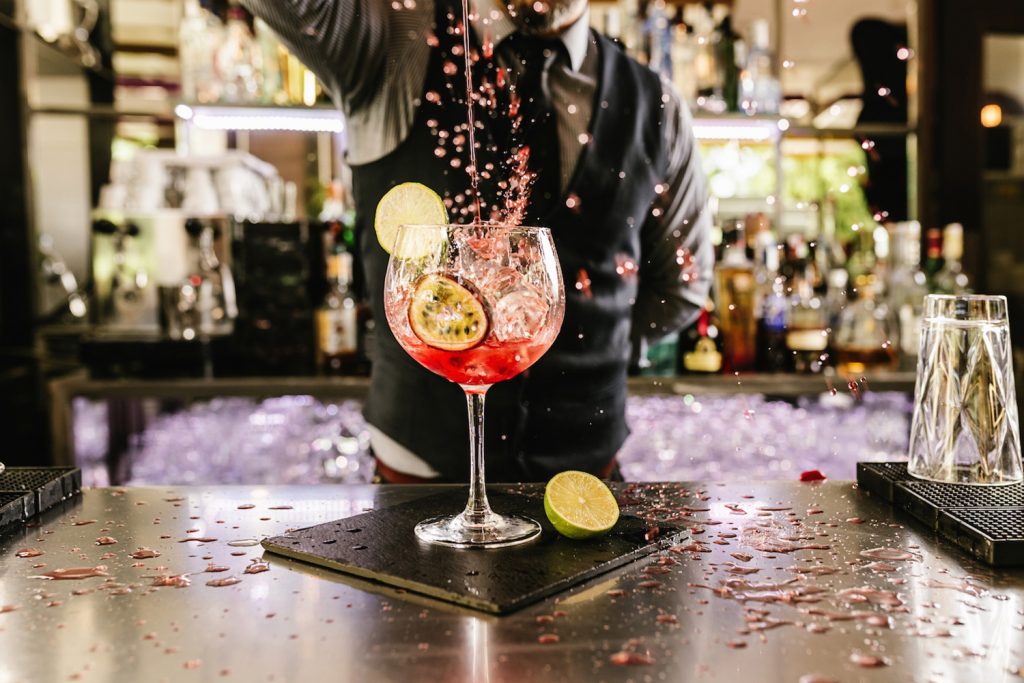 If you're looking for a quiet drink somewhere discreet, then rue Choron in the 9th arrondissement of Paris is the place to be. Walk through the "Il Professore" restaurant and discover in hidden gem in the back room: the secret "Gocce" library bar.
Take a seat in a velvet armchair by the crackling fire and enjoy a cocktail under an enveloping and dim light.
The messed up books and upside down paintings will make you questions how many drinks you've really had.
The Italian restaurant Il Professore that houses Gocce is not our best place to eat in the area however. If you're feeling hungry, check out "Caillebotte" right next door: their dishes are served with finesse and creativity.
GOCCE (behind Il Professore)
7 rue Choron – 75009 Paris.
Tel: +33 01 45 26 52 15
Open from 6 pm to 2 am
Cocktails: starting from €13
CAILLEBOTTE
8 Rue Hippolyte Lebas – 75009 Paris
Tel: +33 01 53 20 88 70
Open Monday to Friday, 12:30 pm to 2 pm and 7:30 pm to 10 pm
Dish of the day: €14. Menu: €19.Dinner menu: €38
https://www.restaurant-caillebotte.com
"Le Buckhingham" in the 2nd arrondissement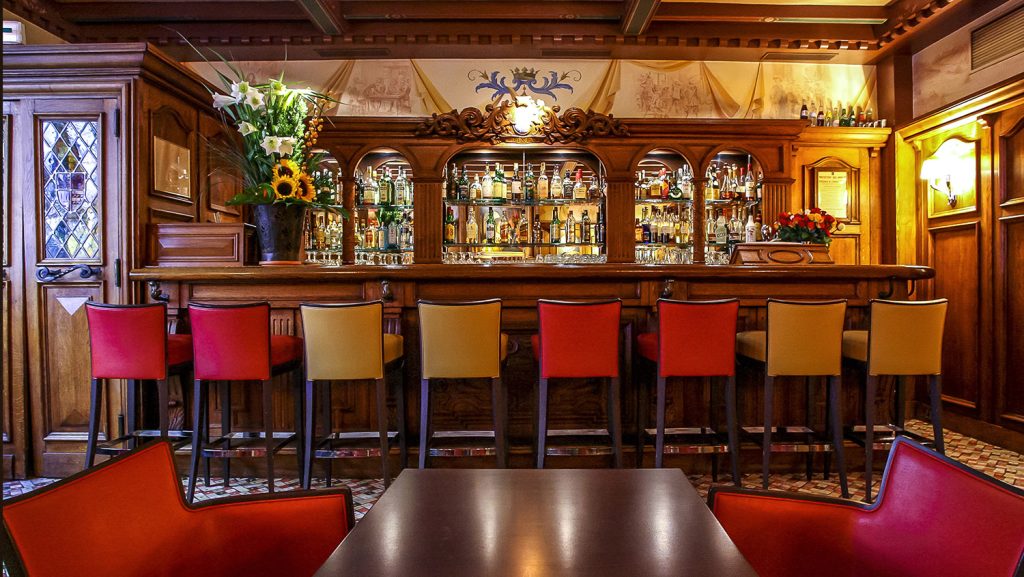 The Hotel Etats Unis Opéra also has a hidden bar. Behind a thick red curtain, right next to our reception, discover "Le Buckingham", a bar that looks like an English club. Soft light, wood paneling, soft music, quality whiskey, cocktails to die for. No need to wander off to discover all that Paris has in store for you.
There is also an entrance at number 32 on rue Saint Augustin, after crossing the doors of this mysterious airlock…
PS: Can you find the doggy bar?
LE BUCKHINGHAM
32 Rue Saint-Augustin – 75002 Paris
Tel: +33 01 42 65 93 77
Open Tuesday to Saturday from 5:30 pm to 1:30 am – Cocktails: around €12
https://www.hotel-etats-unis-opera.com/fr/bar-anglais-quartier-paris/
"Le Moonshiner" in the 11th arrondissement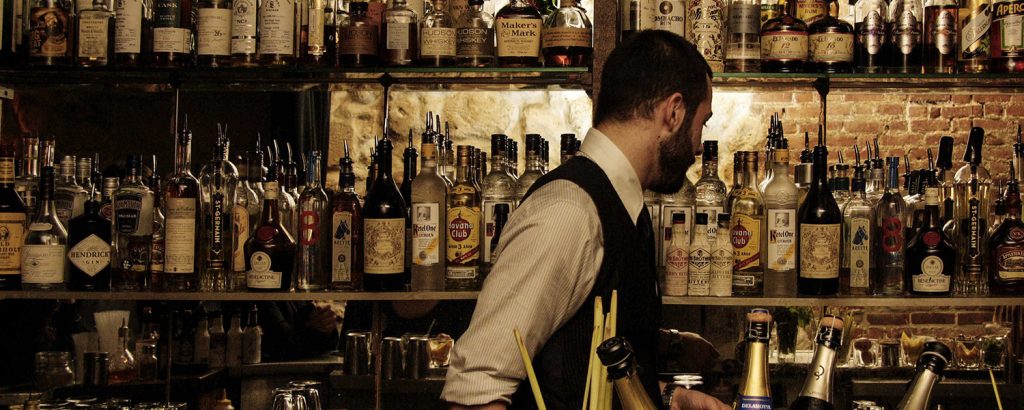 And here is the latest addition to our selection: the "Moonshiner". To find this gem, you will first have to push the heavy enigmatic doors located at the bottom of the pizzeria "Da Vita" near the Bastille.
Turn your modern evening into the era of prohibition. Gramophone, retro decor… enjoy a delicious cocktail by candlelight, installed in a large club chair.
LE MOONSHINER
5 Rue Sedaine – 75011 Paris
Tel: +33 09 50 73 12 99
Open everyday from 6 pm to 2 am
Cocktails: around €12