Our Favorite Neighborhood Restaurants
Japanese, Parisian bistro, trendy brasserie, Italian, vegetarian… the neighborhood surrounding the hotel is full of good addresses.
From the famous Japanese district rue Sainte Anne to the little gems around the Saint Honoré market, la Bourse, or le Sentier, there's something for everyone's taste buds!
Be it a typical bistro or small intimate address, discover our gourmet selection around the hotel.
Daroco Bourse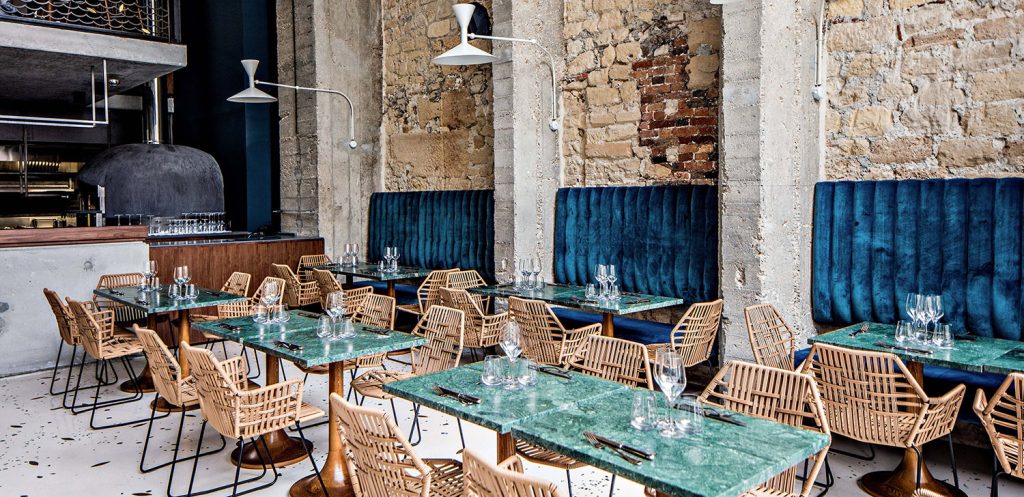 Located in Jean-Paul Gauthier's former sewing workshop, Daroco is a chic Italian trattoria in the neighborhood.
Held up by majestic concrete columns and decorated with marble tables, duck-blue benches, and large plants scattered around the restaurant, this trattoria makes us want to look around! Its huge, 7 meter high ceiling mirror, so high it makes your neck stiff, gives even more depth to this majestic decor.
As for the cuisine, we recommend their fluffy pizzas, which come straight out of the wood oven, and chef Frederico Schiavon's fresh pasta.
DAROCO
6, rue Vivienne
Métro Bourse
Open every day from 12 pm to 11 pm
Tel: +33 01 40 28 45 18
http://www.daroco.fr/
Le Petit Bouillon Pharamond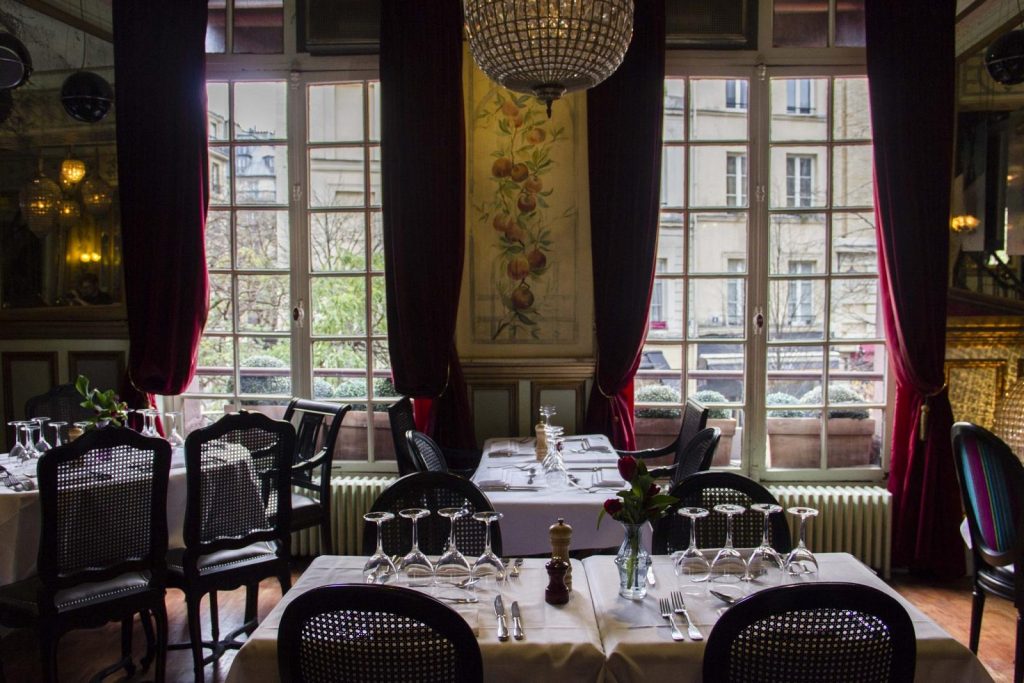 We think that this is one of the best value for money restaurants in Paris!
As a temple of Norman cuisine created in 1832, Pharamond is one of the first "bouillons" of Paris. "Bouillons" are popular restaurants of the nineteenth century and the ancestors of fast foods.
Its Belle Époque decor has been kept intact on 3 floors, its stained glass windows, large mirrors, and spiral staircase keeping the charm of yesteryear.
The "bouillon" offers unpretentious traditional dishes, with starters at 5 euros and dishes at 10. Deviled egg, leek vinaigrette, ham puree: your taste buds will jump right into these classic meals and regressive flavors. If your looking to eat in a place steeped with history, this is the restaurant to go to. Mitterand was particularly fond of it! Given its success, it's best to arrive before 12:30 pm for lunch and before 7:30 pm for dinner.
LE PETIT BOUILLON PHARAMOND
24 rue de la Grande Truanderie
Métro Les Halles ou Etienne Marcel
Open every day from 12 pm to 12 am
Tel.: +33 01 42 21 93 71
https://www.pharamond.fr/
Sanjo
Rue Sainte Anne is known for its many Japanese restaurants, so for a change in scenery, visit Sanjo, a ramen restaurant with a simple and zen decor.
This is where you can watch chefs in white aprons prepare refined but mouthwatering bowls of ramen before your eyes. Special shout out to the homemade noodles that will convince even the most skeptical with one mouthful.
Please note that the restaurant does not take reservations and seats at the counter are expensive. For lunch, go at the beginning or at the end of service, around 2:30 pm.
SANJO
29, rue d'Argenteuil
Métro Pyramides
Open every day except Sunday from noon to 2:30 pm and from 6:30 pm to 10:15 pm
Tel: +33 01 43 43 23 98
Le Petit Vendôme
Close to the very chic Rue de la Paix, discover the address that clashes the neighborhood: Le Petit Vendôme, a real local bistro that looks like your typical bar.
Snails, andouillette, rib steak… Immerse yourself in an authentic atmosphere with slate menus, Formica chairs, and sausages hanging from the ceiling. Here, the workers rub shoulders with tourists, models, traders, or even stars in a happy Parisian atmosphere.
For a quick, on the go lunch, you can also opt for the sandwich option (cantal, sausage with garlic, country ham…) they are reputed to be the best of all Paris! The Tuileries Garden and the Palais Royal are also nearby, if you've been able to wait until now to visit.
LE PETIT VENDOME
8 Rue des Capucines
Métro Opéra, 4 Septembre, or Madeleine
Open for lunch: from 8:30 am to 18:30 pm (except Sunday)
For dinner: from 7 pm to 11:45 pm (except Sundays and Mondays)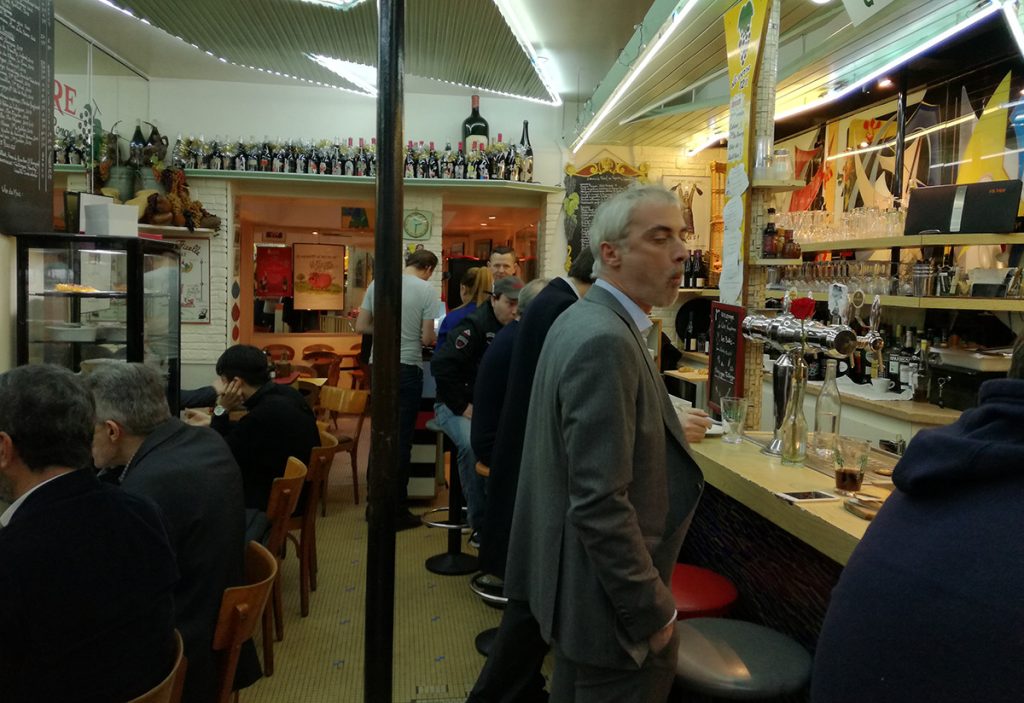 Wild And The Moon Saint Honoré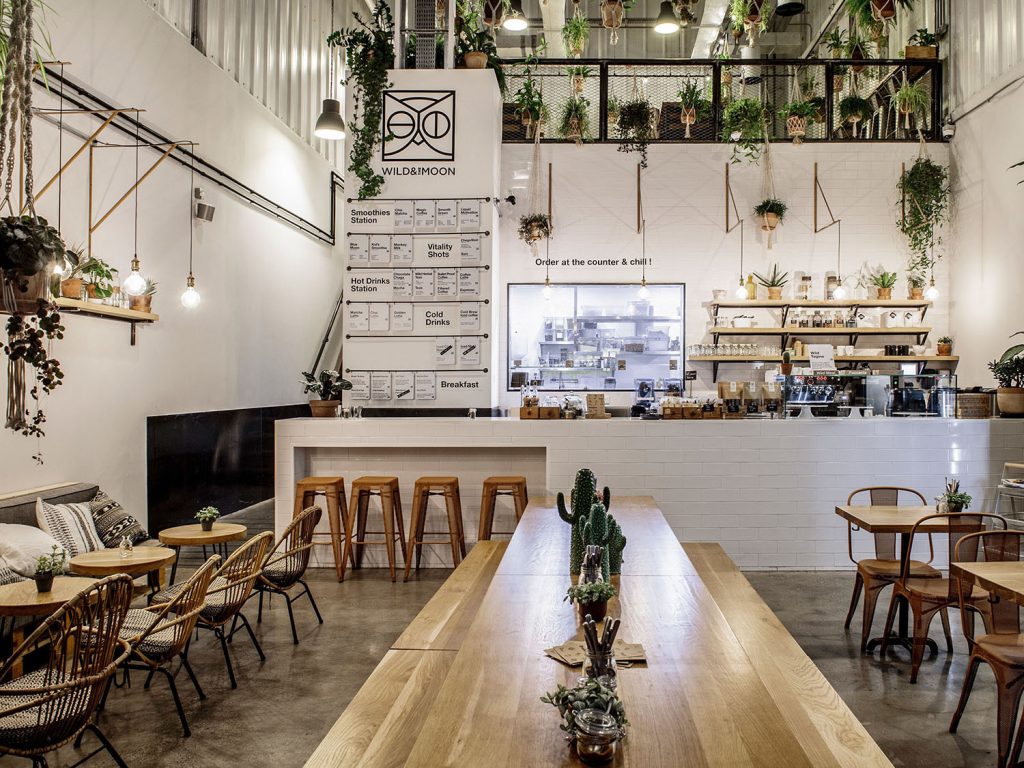 Are you more spinach than grilled steak? Then Wild and The Moon seems to be for you.
A temple of healthy food, this healthy canteen tries to democratize organic.
Whether you eat in or get it to go, discover a 100% local and ethical menu, cold pressed juices with high nutritional power.
And here, we recycle everything we use. Even peelings and fruit pulps are turned into crackers!
Be careful, it's without additives but very addictive.
WILD AND THE MOON SAINT-HONORE
19 Place du Marché Saint-Honoré
Métro Pyramides
Open every day from 8 am to 10 pm (except Saturday and Sunday, open from 9 am)
https://www.wildandthemoon.fr/fr/210-wild-the-moon-saint-honore