3 top chocolatiers within 10 minutes of the hotel

Easter is coming, which means it's time to talk to you about chocolate. A less than 10-minute walk from the Hotel Etats-Unis Opéra will take you to three top chocolatiers, whose creations are brought to life by hand. We have tested the chocolates from these well-known companies for you. Here are the results of our tests as well as some fun stories.
Foucher – A 2-Minute Walk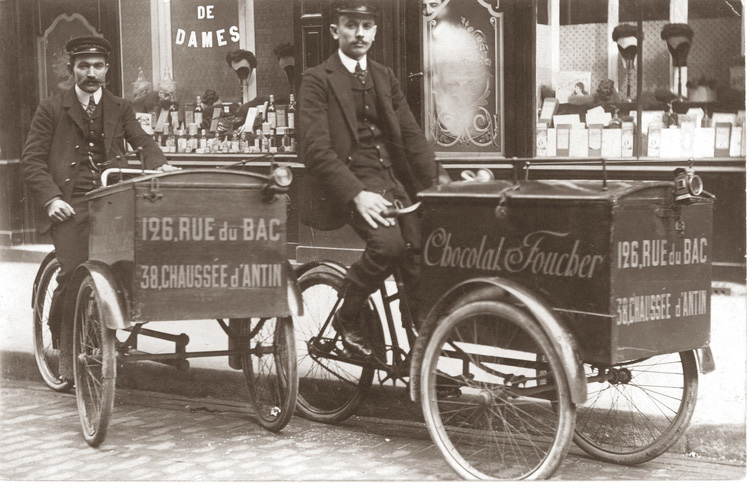 This was our favorite.
The first store opened at 126 rue du bac in 1819. It still exists today. 5 new stores opened between 1830 and 1930. The Maison Foucher is now one of the 10 oldest Parisian houses still owned by the founding family.
The products offered in the store are handcrafted with quality components: chocolates, cherries, candied chestnuts, marzipan, fruit paste, and of course the timeless macaroons.
Different sizes of assorted chocolate ranging from small to large are offered (180 gr – €24.50, 260 gr – €33, and 400 gr – €49) or an average of €13.00 per 100 grams.
We will only talk about one chocolate in this article but we tested five in our previous one (read our article).
For Easter, La Maison Foucher has published its essentials which we have presented below.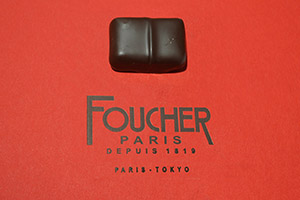 Praline Cracus: Dark chocolate shell, hazelnut & almond filling, and praline nougatine. The praline is very powerful with a long-lasting taste. The nougatine has a nice crunch. Not too sweet. It's so delicious.
Easter Chocolates (2018 Prices)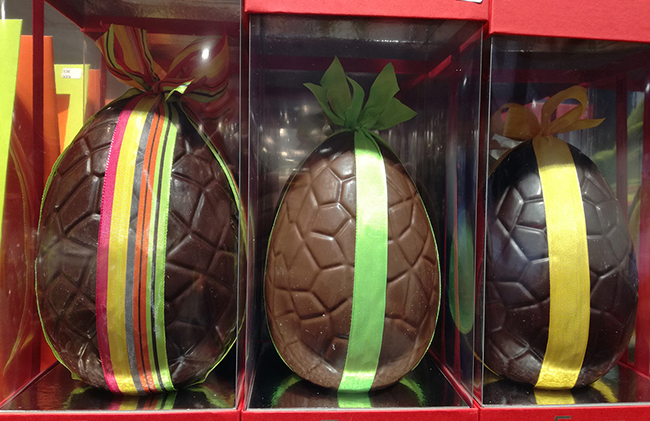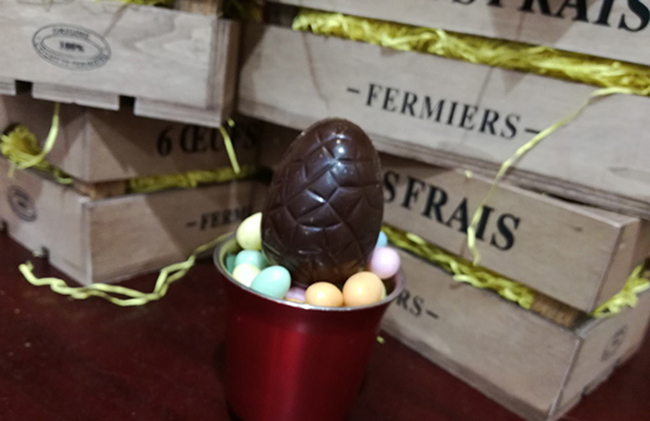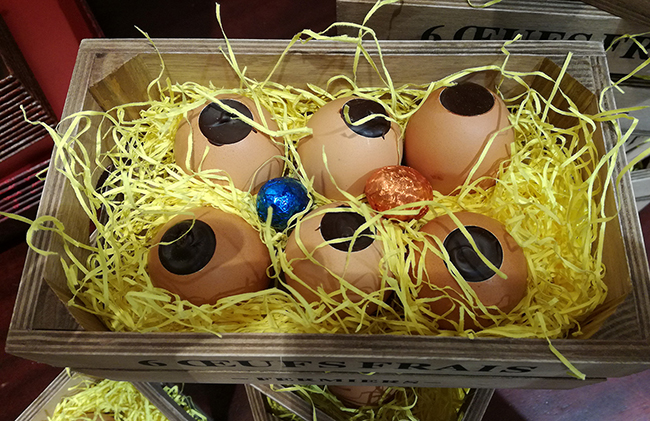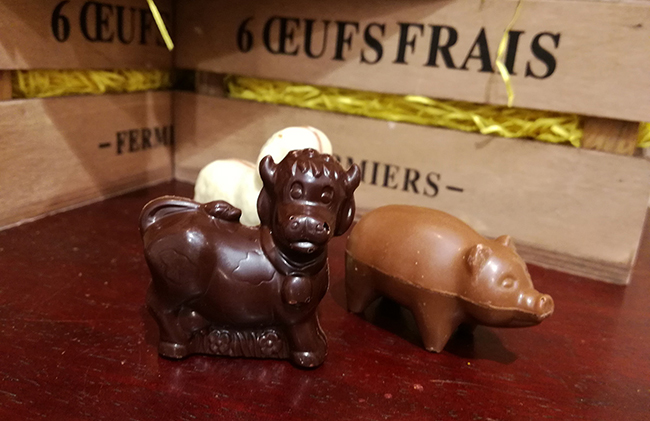 Remarkable reception and highly skilled.
FOUCHER Opera
30, avenue de l'Opéra – 75002 PARIS
Debauve et Gallais – A 9-Minute Walk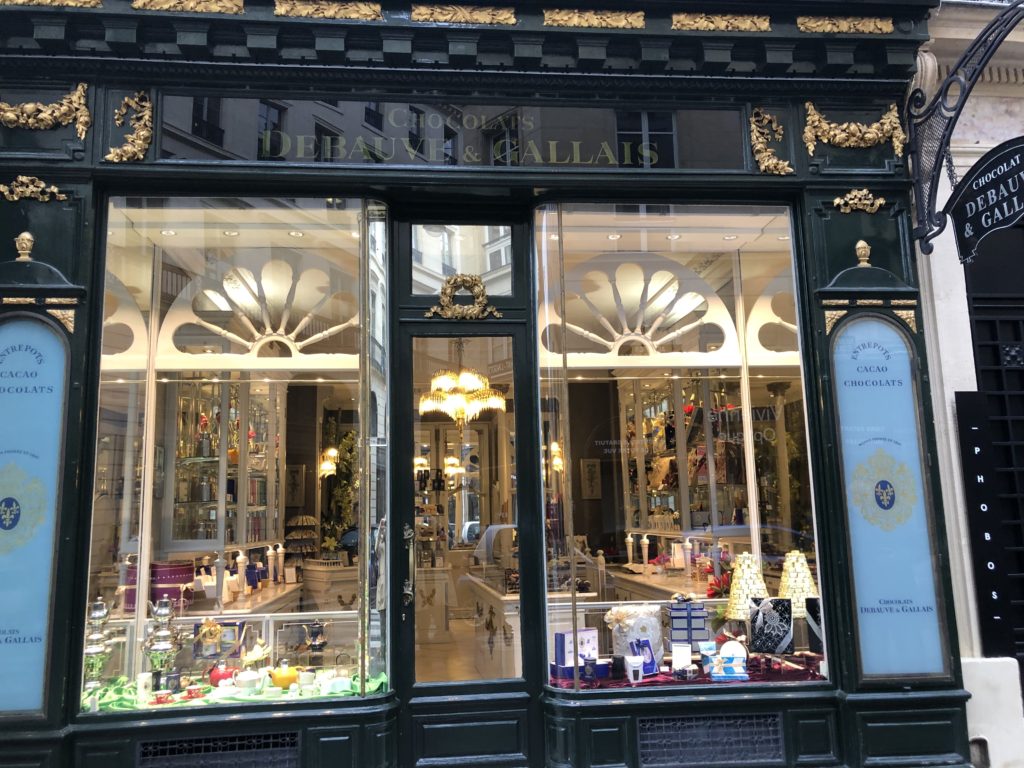 Sulpice Debauve was the pharmacist of King Louis XVI. He developed "a new combination of cocoa, cane sugar, and medicine, after Marie Antoinette complained to him about the unpleasant taste of the medicines she had to take."
The queen, who loved hot chocolate, was so happy that she named Debauve's lozenges "pistole". Debauve was thereafter the chocolate supplier of Napoleon I, then the supplier of Louis XVIII, Charles X, and Louis-Philippe.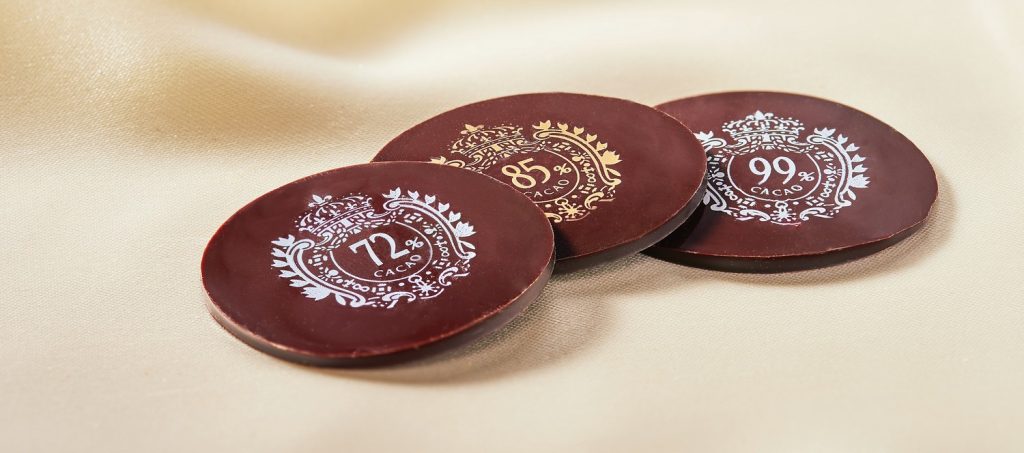 In 1819, Percier and Fontaine, Napoleon Bonaparte's architects, designed Debauve's store, located at 30 Rue des Saints-Pères in Paris. The store on rue vivienne, closer to the hotel, opened much later but stays in the spirit of the flamboyant empire decoration of its older sister.
In addition to the know-how passed down and kept by the three families who succeeded each other at the helm of the business, Debauve and Gallais selected high-quality cocoa beans and offered a particularly appreciated candy cover.

Boule d'Antan : Covered with 72% cocoa. Almond and hazelnut praline filling. Powerful, but subtle cocoa with a long-lasting taste. The chocolate is a bit small. The praline is rather shy and lacks luster.
Toasted almonds. Dark chocolate cover. A very rich candy. Crunchy almonds. Subtle sugar. A great success.

Palet Ganache: ganache filling and 99% cocoa cover
Fleur de lys: Candy made for the coronation of Charles X in 1823. Ganache filling
The non-decreasing price by weight is €15.50 per 100 grams, which makes Debauve and Gallais one of the most expensive chocolatiers in the capital. Debauve & Gallais offers, among other things, an interesting selection of qualitative and varied assorted chocolate tablets. The house offers qualitay packaging. The welcome is personalized and you are guided throughout the sale.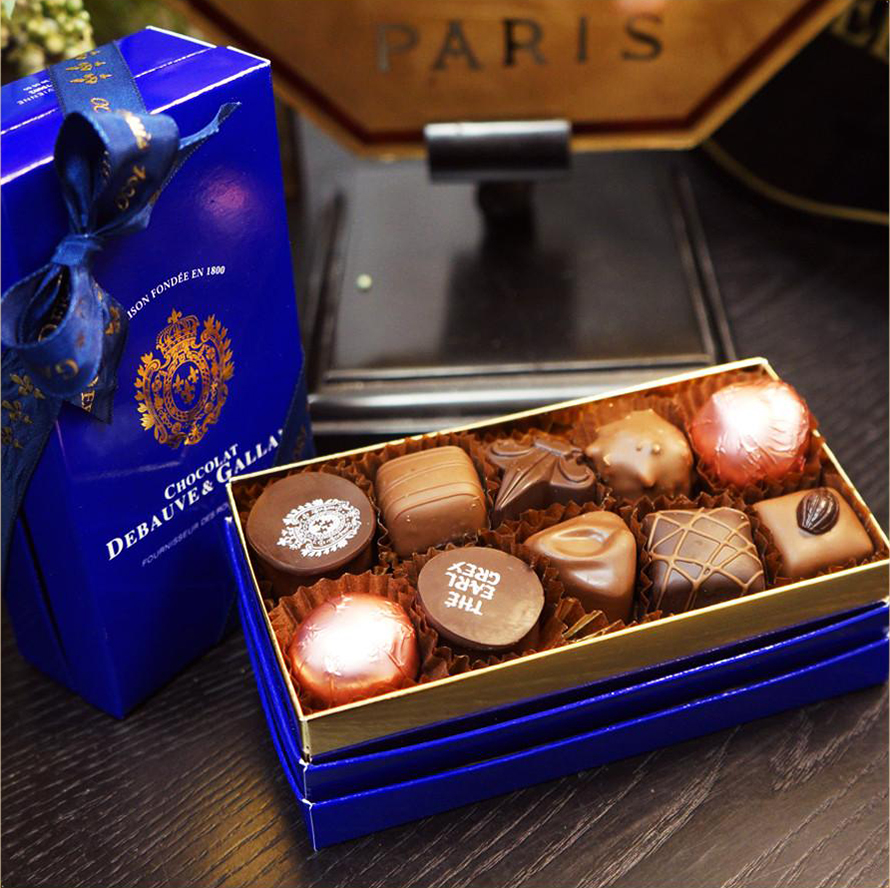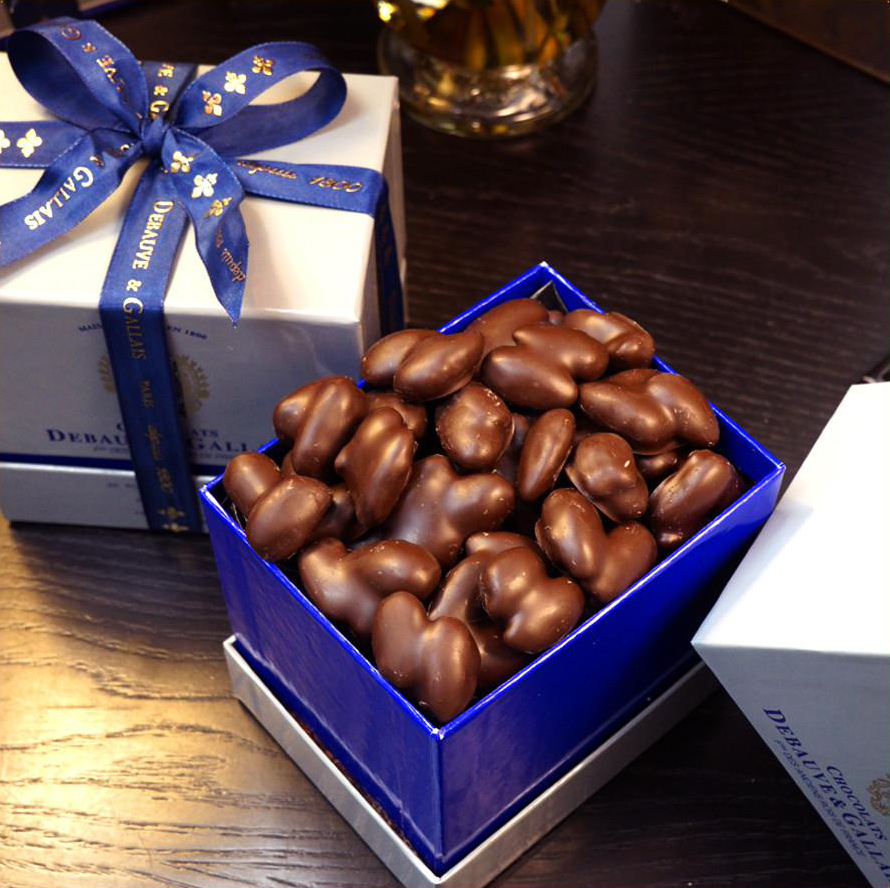 DEBAUVE & GALLAIS
33 rue Vivienne, 75009 Paris and 30 Rue des Saints-Pères, 75006 Paris
Monday to Saturday, from 9 am – 6:30 pm
Jean Paul Hévin – A 7-minute walk
With over 25 years of experience, Jean Paul Hévin is one of the best chocolatiers in France. He has been the pastry chef at Joël Robuchon since 1976. He quickly grew passionate about chocolate. In 1986, he was names Meilleur Ouvrier de France (Best Craftsman of France). As a picture is worth 1,000 words, watch these two short videos:
Jean Paul Hévin is unique in the creativity and modernity of his creations. For example, he makes chocolate cheese aperitifs or spicy-flavored chocolate candies. We hope that the international development ambition of this talented and creative chocolatier does not detract from his hand-made production. His products are also excellent as classics and the quality of his pralines and ganaches is indisputable.

Carnonado: hazelnut praline, almonds, and nougatine. 65% cocoa coating. An excellent praline that explodes in your mouth. Gourmet candy and subtle sugar.
Amareno: Gianduja praline filling, almonds, and dark chocolate. 65% cocoa coating. Here, the praline is very compelling as it's more subtle than rich.

NHK: Almond praline, giantanduja, hazelnuts, and dark chocolate. 65% cocoa coating. The praline is more airy, very crisp and generous. It has a long-lasting taste.
Rock: Almonds and hazelnut praline, slivers of nougatine. 65% cocoa coating. The praline is just as beautiful in its creaminess and crispness. The milk chocolate is a little sweet.
The price of assortments is about €10.80 per 100 grams. Very minimalist reception and advice at the store in the Galeries Lafayette. You could opt for the store on rue Saint-Honoré where the staff is better trained and the assortment is more varied.
JEAN PAUL HÉVIN
Galeries Lafayette Gourmet – 35, Boulevard Haussmann, 75009 Paris