Affordable gastronomy at Zébulon
We spoke just three years ago of this beautiful address located 10 minutes walk from the hotel Etats-Unis Opera. We made a new passage.
The room, which offers an open kitchen, has not changed and is still nice. It is clean, warm, the tables are spaced and the room is not noisy, even when the restaurant is full.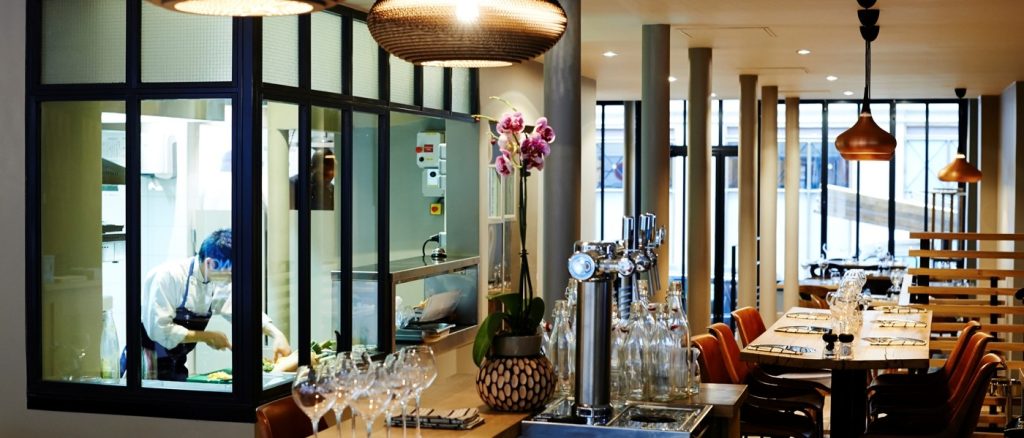 Zébulon is accessible gastronomy. On weekdays for lunch, the starter is 22 € and the full meal 28 €. For dinner, the menu which is renewed every month consists of 5 starters, 5 dishes and 3 desserts for 45 €. The 6-course tasting menu is offered at 65 €.
The wine list is full of choices. There are well-known brands but also a nice selection of organic and natural wines from small harvesters.
The chef's name is Takashi Aoki. Trained in Tokyo, he left Japan to pursue his career in France where he worked among others at Clos des Sens (**) in Annecy, France. Suquet in Laguiole (**) alongside Michel Bras and at l'Ambroisie (***), Place des Vosges.
Takashi Aoki is particularly agile to sublimate quality products by limiting their transformation, and to create beautiful combinations of flavors all in finesse and subtlety. His dishes are cultural meetings with a Japanese touch where it is difficult to identify the flavors since mixtures are very delicate.
The dishes are beautiful and the plates are very well prepared.
We start with a marinated bar, sesame vinaigrette and Jerusalem artichokes with a curry sauce. The freshness of the products is remarkable. It's sweet, delicate, it's a nice blend with subtle flavors.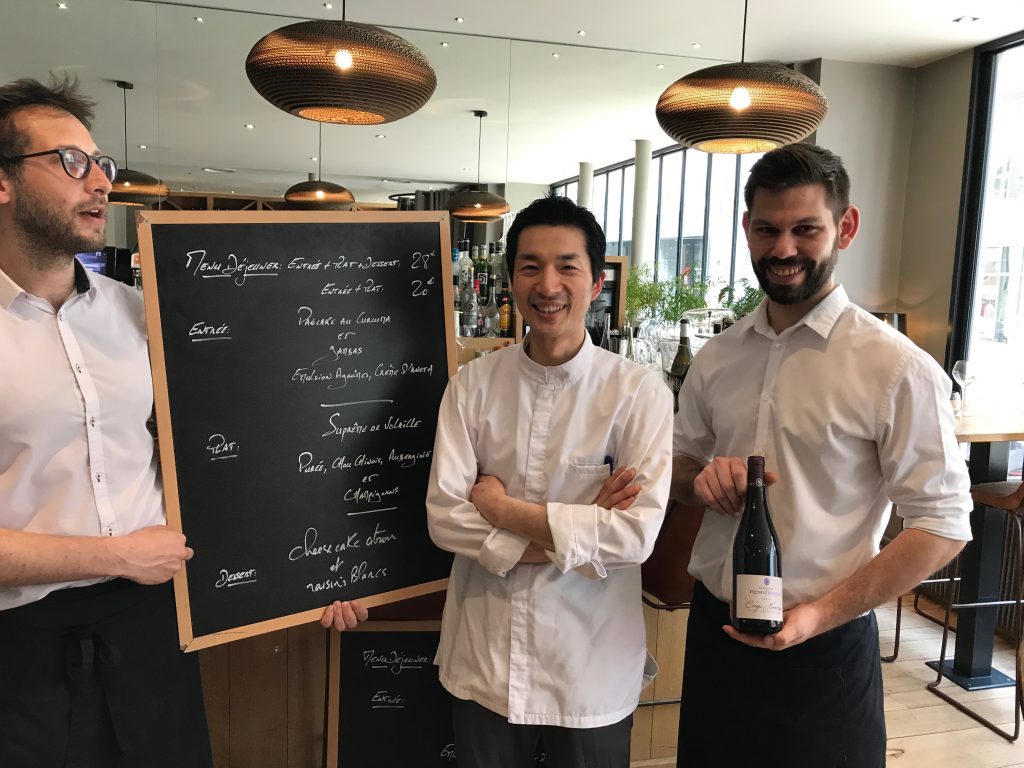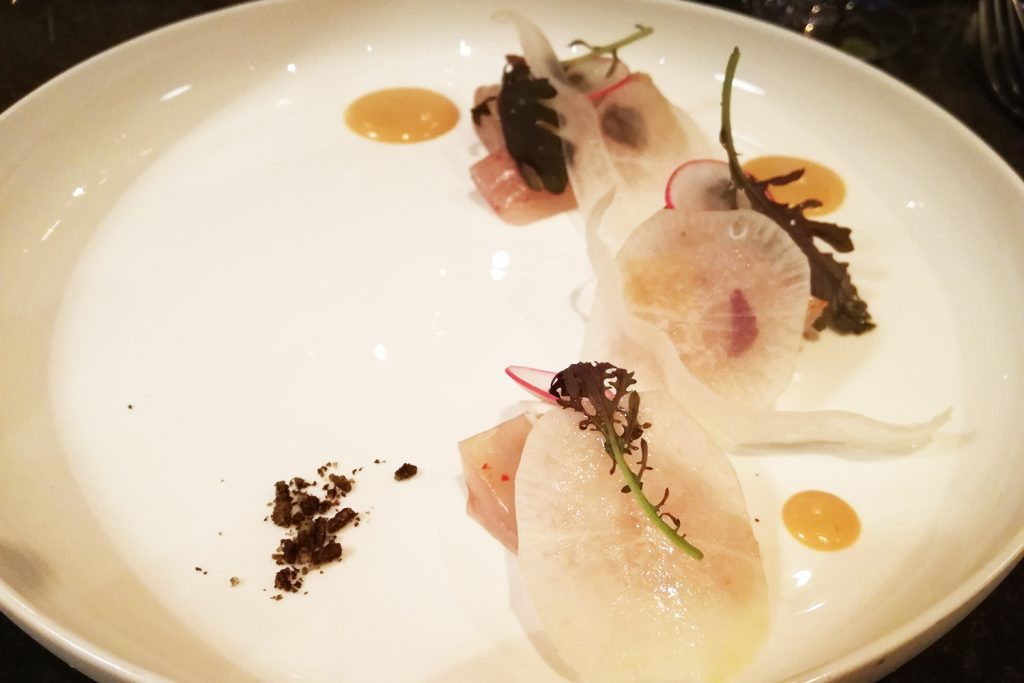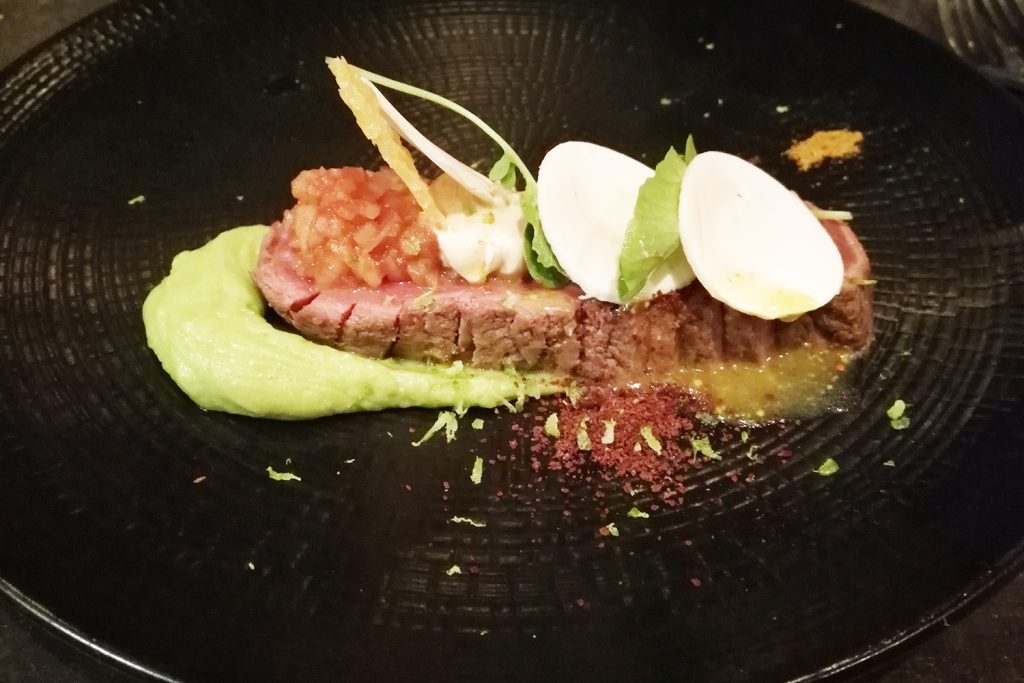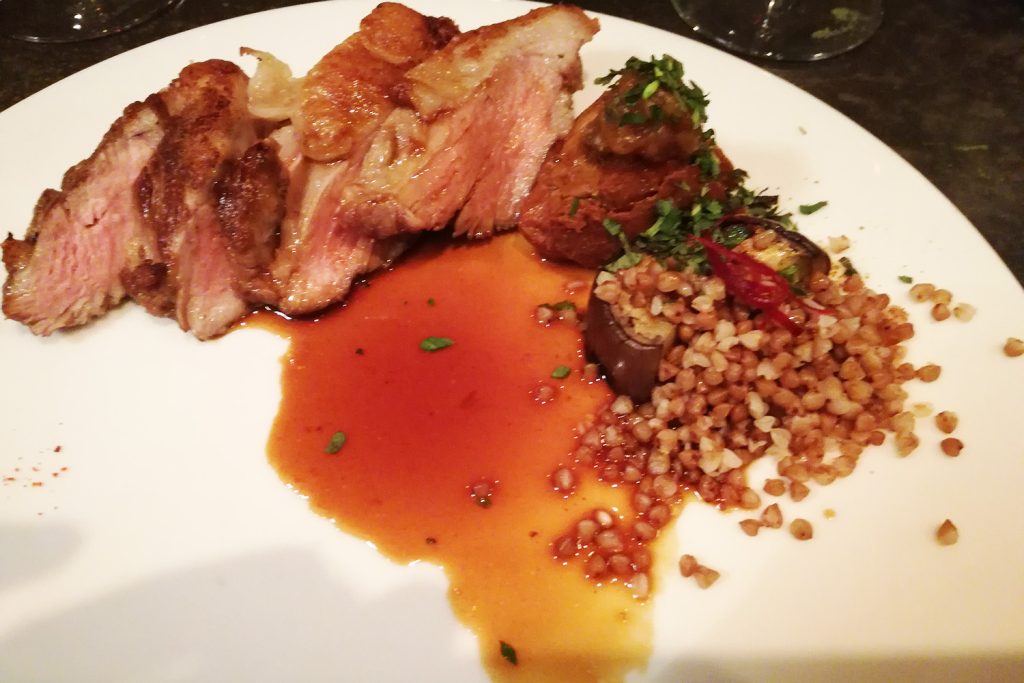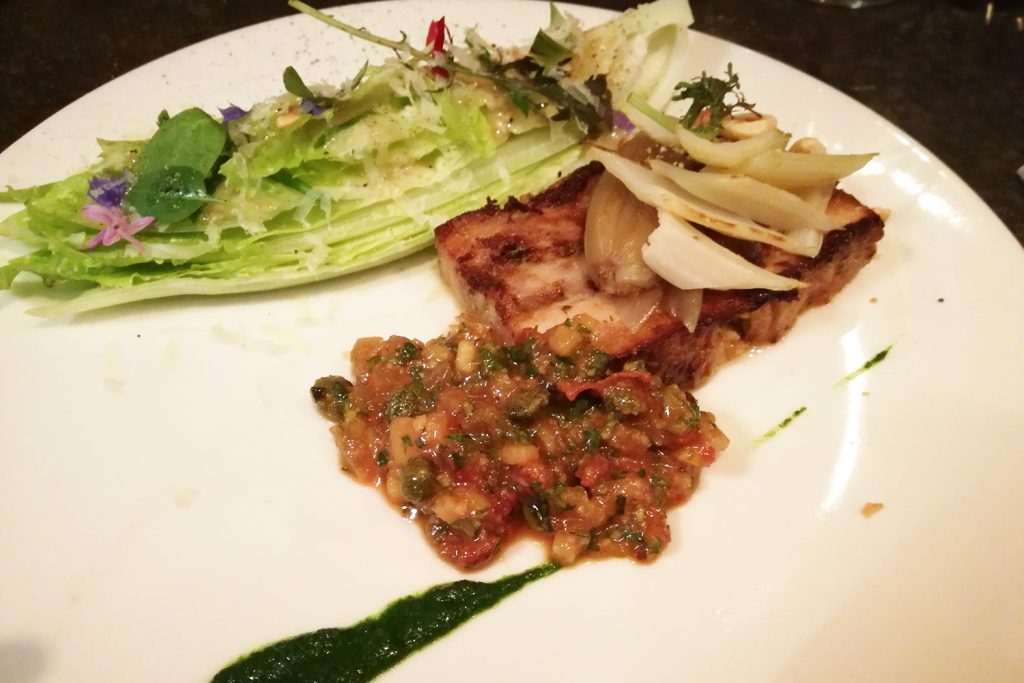 Wild garlic can be found in the forest from the end of March, when the bear finishes its hibernation. As for the chard that our chef has chosen young, it is a vegetable today neglected because it fades very quickly and must be consumed fresh. It offers a crisp, which accompanied by a very sparkling vinaigrette, is a very nice accompaniment to the veal as well as subtle. A nice summer recipe.
Desserts are served with this sponge cake, raspberries, blackberries, grapes, apricot purée and Smith granny sorbet. It is a good idea to have mixed this rather neutral cake taste with an apricot purée, which brings the acidity, fruits of excellent quality and the sorbet which brings freshness.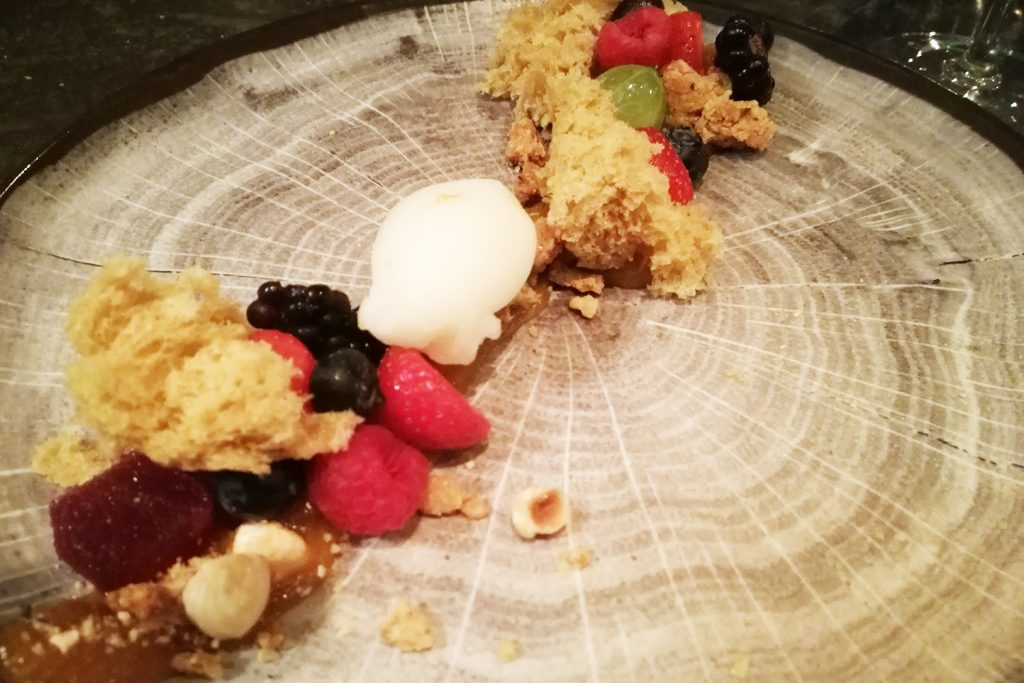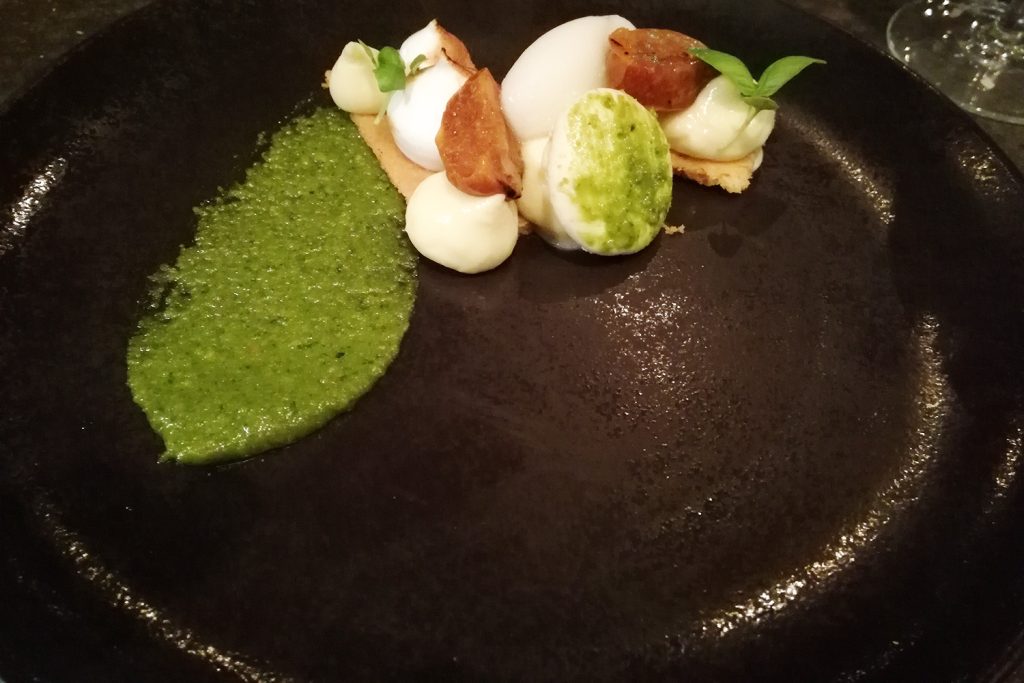 And finally, still beautiful colors and beautiful associations with this lemon cake, creamy mango, passion and sorbet coriander. There is crunchy, fondant and creamy with complementary flavors.
We embellished all this with a Menetou-Salon 2016, served slightly fresh, from Philippe Gilbert, who has devoted his entire self without being masculin biased, especially on leg of lamb (40 €).
The service is a bit young but still friendly. We will be well advised to ask a comment on the coveted dish whose products may vary marginally depending on the market.
Booking is strongly recommended.
Bon appétit.
ZÉBULON
10 Rue de Richelieu, 75001 Paris
From Monday to Saturday from 12:00 pm to 2:00 pm and from 7:30 pm to 20:00 pm