The Passages of Paris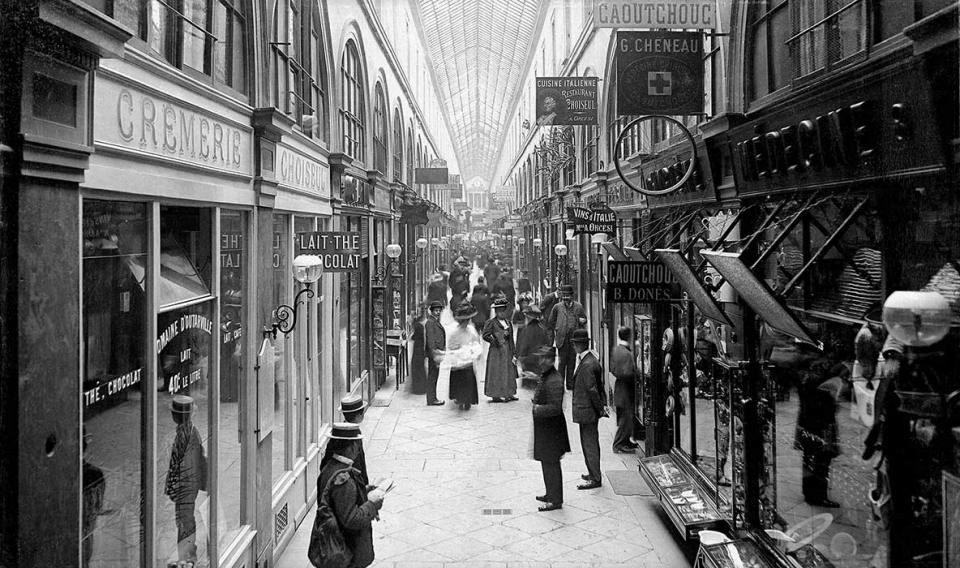 The "passage" is a typically Parisian concept born in 1776 and further developed in the first half of the 19th century. Paris had up to thirty covered passages in the 1850s and shared its idea with provincial cities such as Bordeaux or Nantes and abroad. Today, Paris has 24 passages, 18 of which are classified as historical monuments, and 10 of which are concentrated in the 2nd district.
We are sharing with you two passages which we hope will help you discover the Paris of old. To follow them, we recommend using the following Google Maps link on your smartphone:
– Route No. 1, 1.5km covering 5 passages. Estimated walking time: 1.30 to 2 hours
– Route No. 2, 3.8km covering 9 passages. Estimated walking time: 3 to 4 hours
Here we will talk about the main passages and at the end of the article, you will find a complete table for each place with its respective wikipedia.fr page. Depending on the languages ​​available, you can branch off to the Wikipedia page language of your choice.
Galerie Verdeau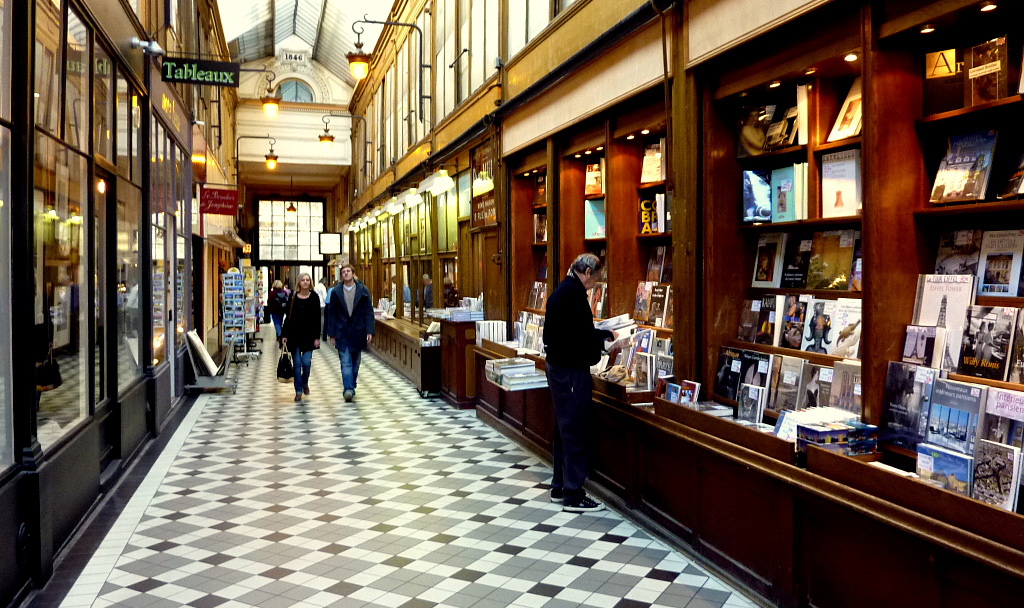 Opened in 1947, it covers 75 meters. Close to the Hotel Drouot, it has attracted several antique dealers, collectors of old books or old postcards, booksellers… A photo store has been in the same location since 1901.
Passage Jouffroy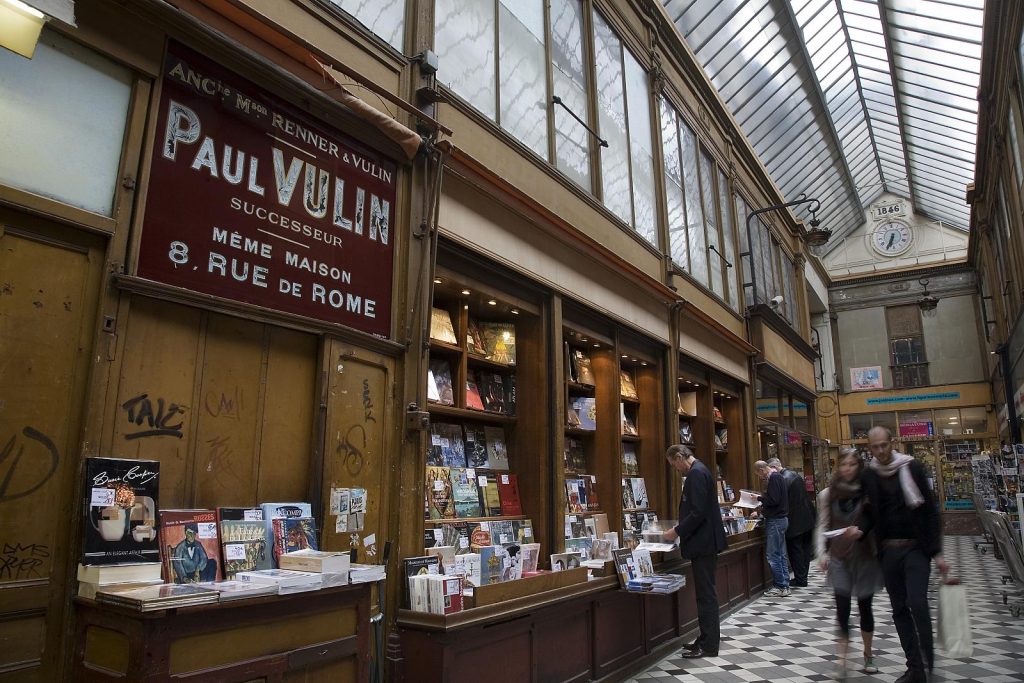 It is a fairly long passage covering 140 meters. Since its creation, it has been one of the most visited passages in Paris. It starts at the continuation of the Passage des Panoramas. It has a metal frame with a glass roof and marble pavement. It was renovated in 1987.
Here you will find several interesting shops; books, prints, toys, stationery, and at one of its ends, the Musée Grévin and its famous wax characters, which will interest the little ones for sure.
Passage des Panoramas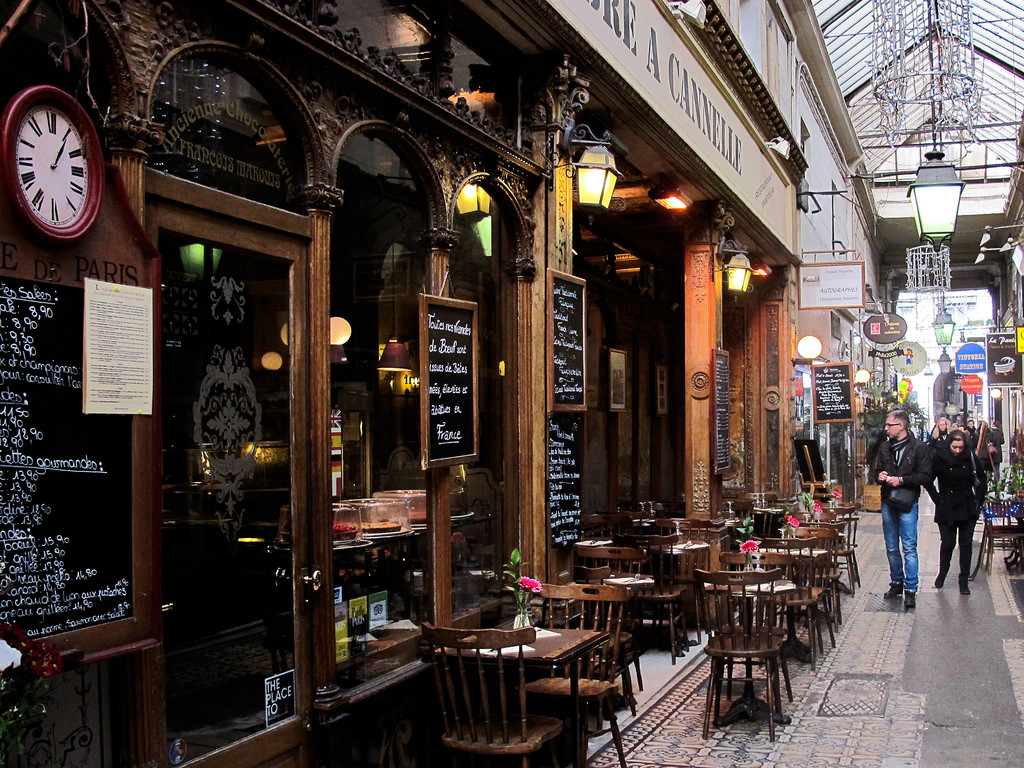 It is the oldest covered passage in the capital, and probably the most popular by now. It has preserved a patina of authenticity able to plunge you into the Paris of the 19th century. Its commercial activity is rather centered on food, art, and postcard, money, autograph, and old stamp collectors. You can see period façades like the Marquis chocolatier and the Stern printing house (read our article).
Galerie Vivienne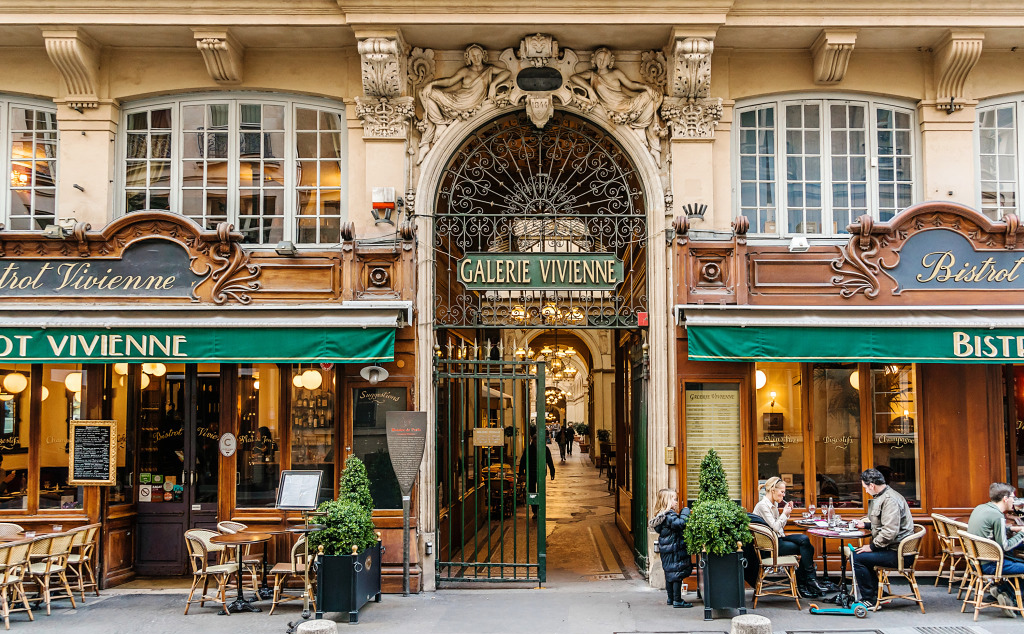 It is one of the longest and most beautiful galleries in Paris. It definitely deserves a detour (read our article). If you are a wine lover, visit the Maison Legrand, a wine merchant offering a choice of 350 types, 3,000 wines, and 10,000 references.
Passage du Grand-Cerf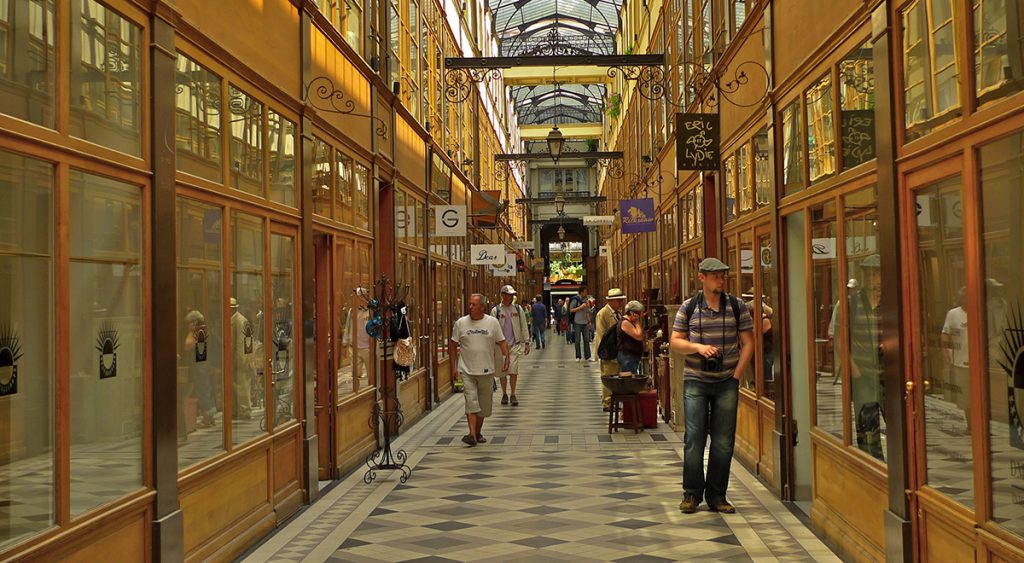 Nearly 12 meters high and with a wrought iron structure flanked by a glass roof, this passage offers beautiful light to stroll in and many shops of atypical and creative craftsmen to discover: creators, decorators, designers, dry goods, a gallery, and an interesting brewery at its end.
| | | | | | | | | | | |
| --- | --- | --- | --- | --- | --- | --- | --- | --- | --- | --- |
| Arr. | Name | Date | Entrance 1 | Entrance 2 | Entrance 3 | Entrance 4 | Opening hours | Classified Historical Monument | Long | Cotation |
| 1 | Passage des Deux-Pavillons | 1820 | 6 rue de Beaujolais | 5 rue des Petits-Champs | | | | Yes | 33m | 1 |
| 1 | Galerie Véro-Dodat | 1826 | 19 rue Jean-Jacques-Rousseau | 2 rue du Bouloi | | | Monday-Saturday, 7AM-10PM | Yes | 80m | 3 |
| 2 | Passage du Bourg-l'Abbé | 1828 | 120 rue Saint-Denis | 3 rue de Palestro | | | Monday-Saturday, 7AM-7.30PM | Yes | 47m | 1 |
| 2 | Passage du Caire | 1798 | 33 rue d'Alexandrie | 2 place du Caire | 237-239 rue Saint-Denis | 14, 34 et 44 rue du Caire | Monday-Saturday, 7AM-6.30PM | | 360m | 2 |
| 2 | Passage Choiseul | 1829 | 40 rue des Petits-Champs | 23 rue Saint-Augustin | 40 rue Dalayrac | Passage Sainte-Anne | | Yes | 190m | 2 |
| 2 | Galerie Colbert | 1826 | 6 rue des Petits-Champs | 2 rue Vivienne | | | | Yes | 83m | 2 |
| 2 | Passage du Grand-Cerf | 1825 | 145 rue Saint-Denis | 10 rue Dussoubs | | | Monday-Saturday, 8.30AM-8PM | Yes | 117m | 3 |
| 2 | Passage des Panoramas | 1800 | 10 rue Saint-Marc | 11 boulevard Montmartre | 38 rue Vivienne | 151 rue Montmartre | Monday-Sunday, 6AM-12PM | Yes | 133m | 3 |
| 2 | Passage du Ponceau | 1826 | 119 boulevard de Sébastopol | 212 rue Saint-Denis | | | Monday-Fryday, 8.30AM-7PM | | 92m | 0 |
| 2 | Passage des Princes | 1860 | 5 boulevard des Italiens | 97-99 rue de Richelieu | | | Monday-Saturday, 8AM-8PM | Yes | 80m | 1 |
| 2 | Passage Sainte-Anne | | 59-61 rue Sainte-Anne | Passage Choiseul | | | | Yes | 47m | 0 |
| 2 | Galerie Vivienne | 1823 | 4 rue des Petits-Champs | 6 rue Vivienne | 5 rue de la Banque | | Monday-Sunday, 8.30AM-8.30PM | Yes | 176m | 3 |
| 3 | Passage Molière | | 82 rue Quincampoix | 157, 159, 161 rue Saint-Martin | | | | Yes | 46m | 2 |
| 3 | Passage Vendôme | 1827 | 16 rue Béranger | 3 place de la République | | | Monday-Fryday, 8AM-8PM | Yes | 57m | 1 |
| 6 | Cour du Commerce-Saint-André | 1776 | 59 rue Saint-André-des-Arts | 21 rue de l'Ancienne-Comédie | 130 boulevard Saint-Germain | | | Yes | 120m | 3 |
| 8 | Cité Berryer | | 24 rue Boissy-d'Anglas | 24 rue Royale | | | | Yes | 95m | 3 |
| 8 | Arcades du Lido | 1926 | 76-78 avenue des Champs-Élysées | 59 rue de Ponthieu | | | | | | 1 |
| 8 | Galerie de la Madeleine | 1845 | 9 place de la Madeleine | 30 rue Boissy-d'Anglas | | | Monday-Saturday, 8AM-7PM | Yes | 53m | 2 |
| 8 | Passage Puteaux | 1839 | 33 rue de l'Arcade | 28 rue Pasquier | | | Monday-Fryday, 7AM-12PM | | 29m | 1 |
| 9 | Passage du Havre | 1845 | 69 rue de Caumartin | 109 rue Saint-Lazare | | | | | 115m | 0 |
| 9 | Passage Jouffroy | 1845 | 10-12 boulevard Montmartre | 9 rue de la Grange-Batelière | | | Monday-Sunday, 7AM-9.30PM | Yes | 140m | 3 |
| 9 | Passage Verdeau | 1847 | 6 rue de la Grange-Batelière | 31 bis rue du Faubourg-Montmartre | | | Monday-Fryday, 7.30AM-8.30PM | Yes | 75m | 3 |
| 10 | Passage Brady | 1828 | 43 rue du Faubourg-Saint-Martin | 22 boulevard de Strasbourg | 33 boulevard de Strasbourg | 46 rue du Faubourg-Saint-Denis | | Yes | 216m | 2 |
| 10 | Passage du Prado | 1830 | 16 boulevard Saint-Denis | 16 rue du Faubourg-Saint-Denis | | | Monday-Sunday, 9.30AM-7PM | | 120m | 0 |