Canard & Champagne restaurant: real quality at the right price
If you're looking for a restaurant, head over to the Passage des Panoramas, where you'll find them in abundance. It's ten minutes' walk from the Etats-Unis Opéra Hotel, and the stroll is worth the detour if you fancy sampling the atmosphere of 19th century Paris (read our article).
At number 57 you'll find Canard & Champagne, which has taken over the site of the old chocolaterie Francois Marquis, founded in 1818.
A place that respects its heritage, but isn't afraid to create and innovate
Jean-François Monfort, co-founder of the establishment, knows his craft (formerly maître d' at the Terroir Parisien, founded by Yannick Alléno, 3-star Michelin chef – read our article) and has made excellent use of the space.
All the historical features such as wood paneling and decorated ceilings have been conserved and are showcased spectacularly, combining tradition and modernity.
It's done with a personal touch, and makes a change from the kind of thoughtless designs we see appearing here and there these days. Lovers of interior design will appreciate it.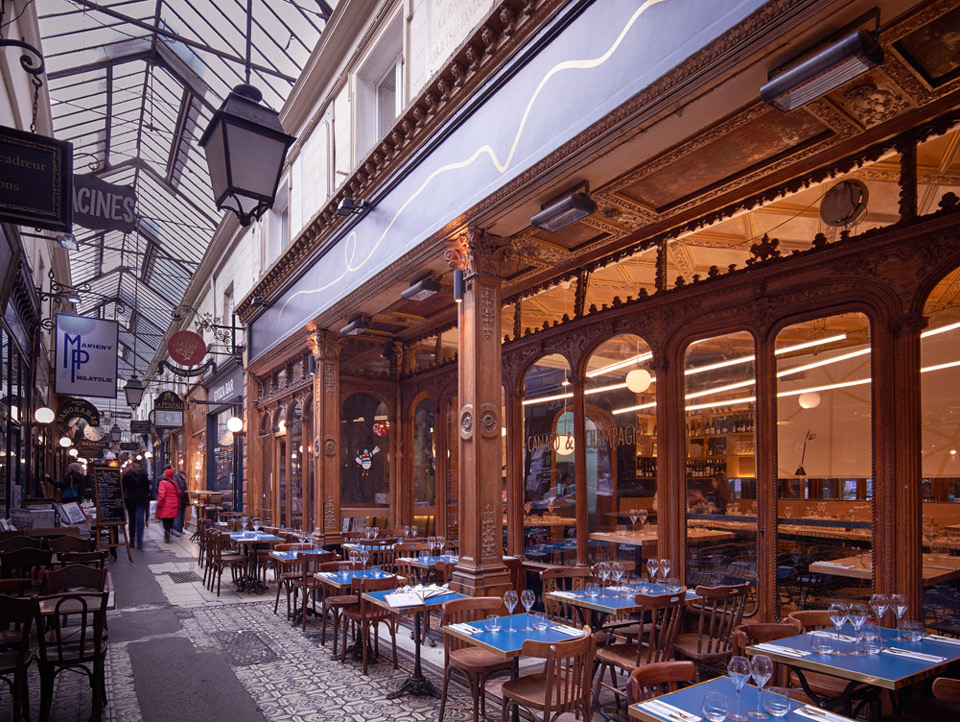 The restaurant has a large terrace which is heated in winter, a room on the first floor and a second in the basement which will open shortly. On the first floor, if your eyes drift to the far end of the room, you might find yourself chuckling as you think of Septime hectoring his team in "Le Grand restaurant".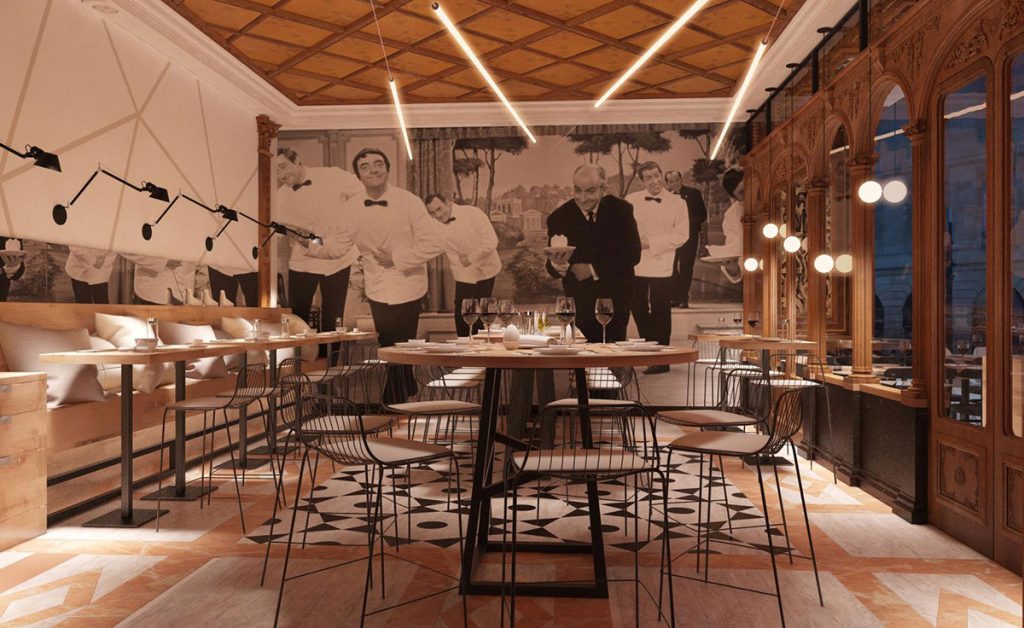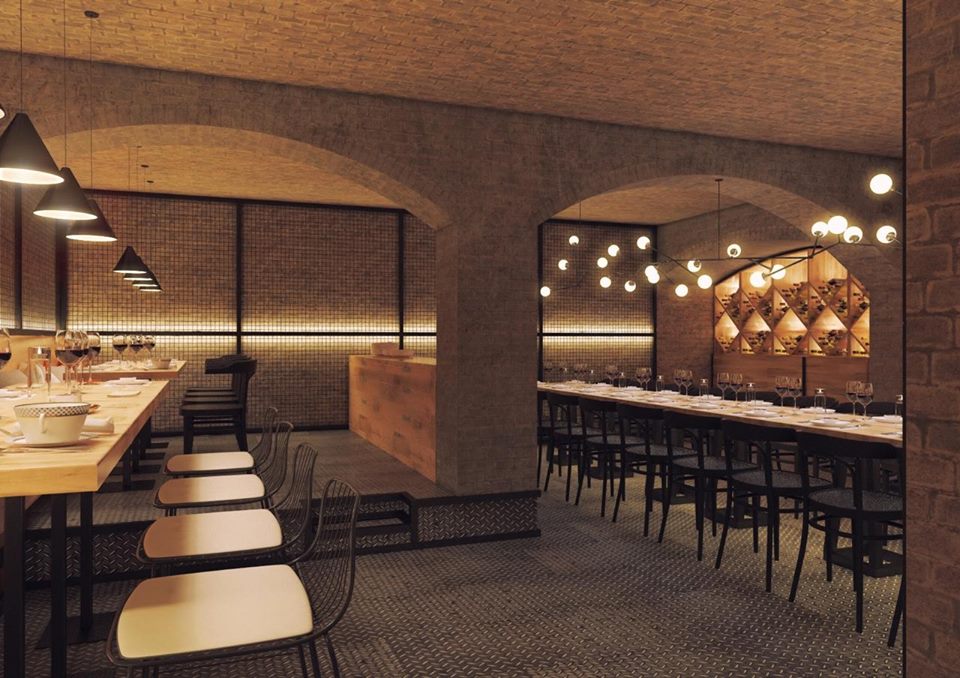 Quality products from small French producers at the right price
The menu is limited, but the culinary concept is well thought-out. The idea is simple: offer good pairings based on products which are authentic and quintessentially French, but which are also some of the most appreciated in France and overseas.
Quality produce has been selected from small producers. On the champagne side, we find products from Chartogne Taillet, Laherte, Jean Michel Sélèque, and Frèrejean Frères, all associated with prestigious names like Ruinart, Don Pérignon, Bollinger and Roederer…
The duck is organic and has the Red Label for quality. It comes from small breeders in the Vendée, Alsace and the South-West, where the birds are raised and fed outdoors. The meat is delicious and pleasantly fatty without being too heavy.
The restaurant is committed to offering fine dining at an affordable price. Grand cru champagnes are on offer from €8-9 for a glass. For lunch, the menu offers Fast Duck, including a sucrine lettuce heart and a dish of the day for €17.50. The same set menu with the dessert of the day comes to €20.50.
A set menu including a starter and a main course is also available for €25.00. Desserts are between €8 and €9.50.
You can start with a well-balanced foie gras mi-cuit, sprinkled with poppy seeds and accompanied by chutney and toasted rustic bread. You could also opt for a sucrine lettuce heart, seasoned with Greek yogurt, piquillo peppers and finely ground chives. A creative marriage of flavors which works brilliantly.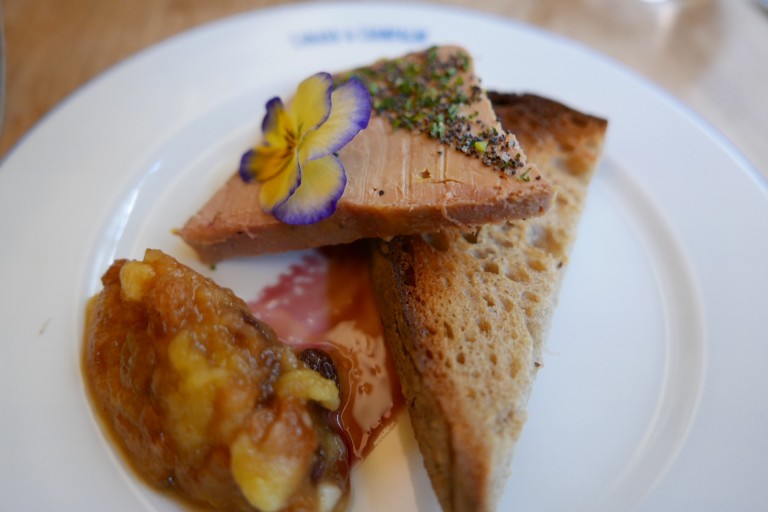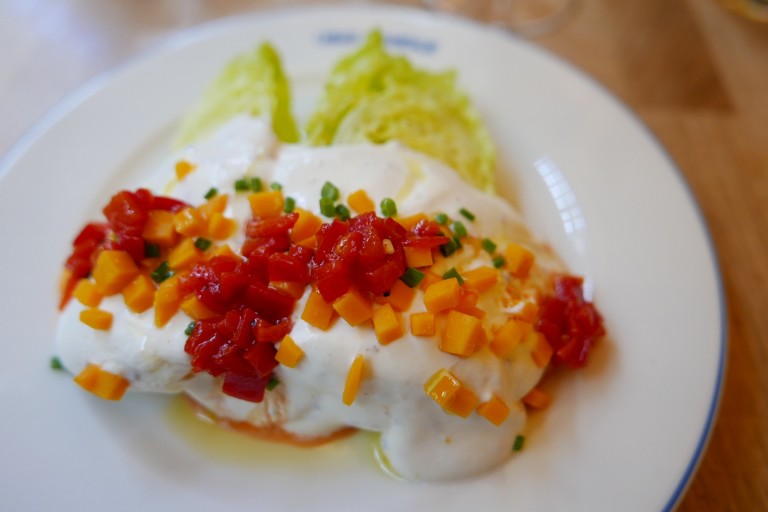 The duck breast fillet, served pink with a crispy surface, is thin and firm. It comes with a red kuri squash purée, thick-cut house fries or seasonal vegetables.
For big eaters, the chocolate profiteroles topped with almonds won't do your wallet any harm at €8.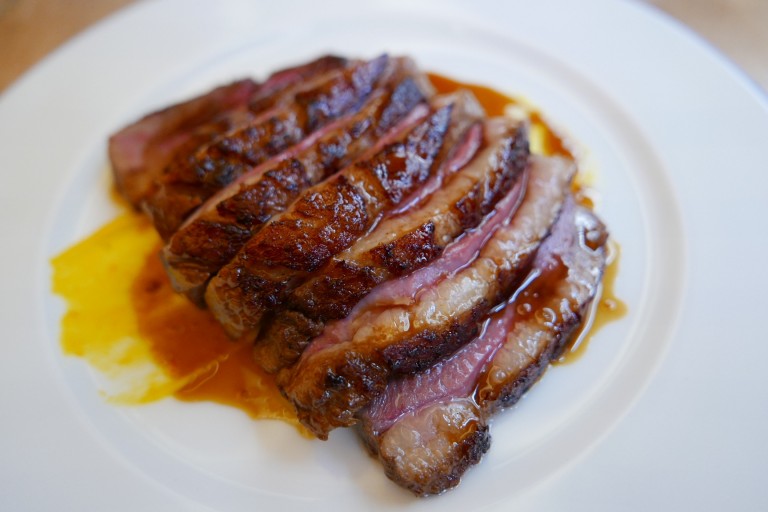 On termine son repas avec la perception qu'un vrai travail de recherche de qualité a été fait, autant dans le décor que dans la sélection et la préparation des produits, pour un prix tout à fait correct.
Canard et Champagne
57, passage des Panoramas – 75002 Paris
Tel : 09 81 83 95 69
Site web : http://frenchparadox.paris/fr/