Cocktails & whisky at the Buckingham: A club with an English atmosphere
Cocktails & whisky at the Buckingham: A club with an English atmosphere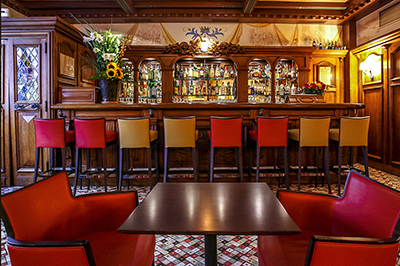 If you are a fan of the muffled atmosphere of English clubs, you will love this warm, intimate bar which opens its doors from 5.30pm Tuesday to Saturday in the heart of the Opéra district
Arrive along Rue Saint Augustin and you will see the Buckingham Bar and its Dog's Bar at number 32. Step inside to discover its traditional, opulent decor with oak paneling that contributes to the soft atmosphere, and provides noticeably good acoustics. It is the polar opposite of the high-decibel venues where the noise leaves you exhausted.
You will also notice how the tables are well spread out, which provides comfort and discretion.
In charge at the bar is Hélène, whose specialties are cocktails and whisky. Let her know what you like and she will suggest something you will never forget. Feel free to ask her for a traditional cocktail or, even better, a tailor-made creation: her specialty. Take this opportunity to step up to the main bar, which runs the entire width of the room, and admire her unique skills and talent as she prepares your drink.
The drinks menu is bursting with cocktails, mocktails, a wonderful selection of whisky and bourbon, wines and Champagne, aperitifs and digestifs, as well as hot drinks and a country platter for when you get hungry.
Expect to pay €10.50 to €13.50 for a cocktail, and €9.50 to €16 for a whisky.
Le Buckingham – Hôtel Etats-Unis Opéra
32 Rue Saint-Augustin – 75002 Paris
Open 5.30pm to 1.30am, Tuesday to Saturday
Closed in August.