The Maille boutique on Place de la Madeleine
Place de la Madeleine is located less than a ten-minute walk from Hôtel Etats-Unis Opéra. It is the spot in Paris for lovers of fine food: Hédiart, Fauchon, Maison Prunier and Maille all have shops here.
One of these four destinations is totally unique. If you love sauces and condiments or if you are searching for a gift idea that is special, chic, inexpensive and represents the best in French culinary art, make sure to visit La Maison Maille, a leading specialist in fine mustards and vinegars.
La Maison Maille was founded in 1747. It was the official supplier to the court of King Louis XV and today the brand is known worldwide.
There are only four Maille boutiques in the entire world: Paris, London, New York and Dijon.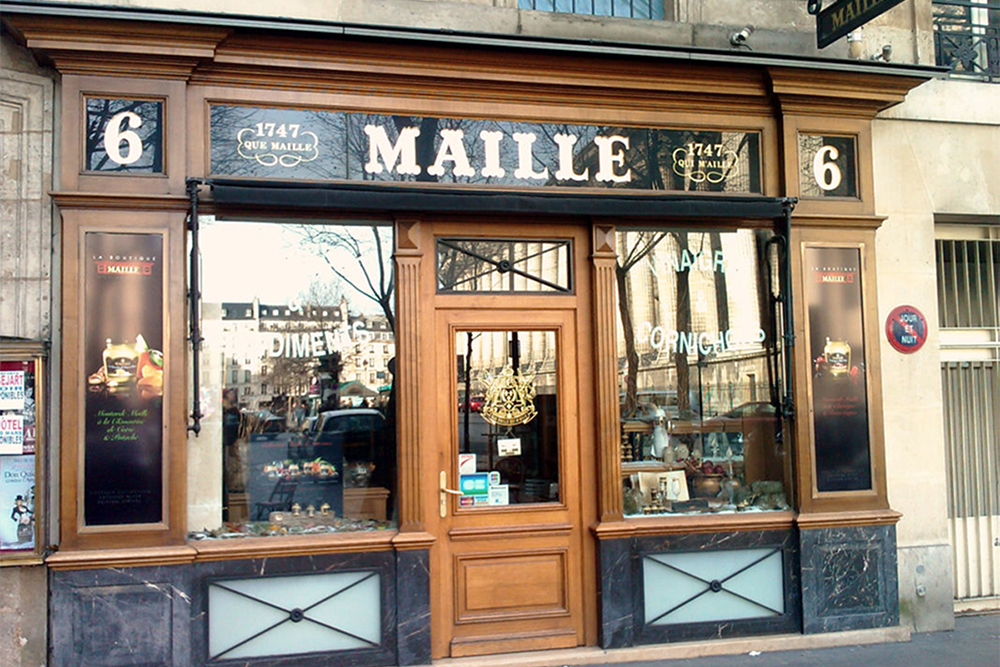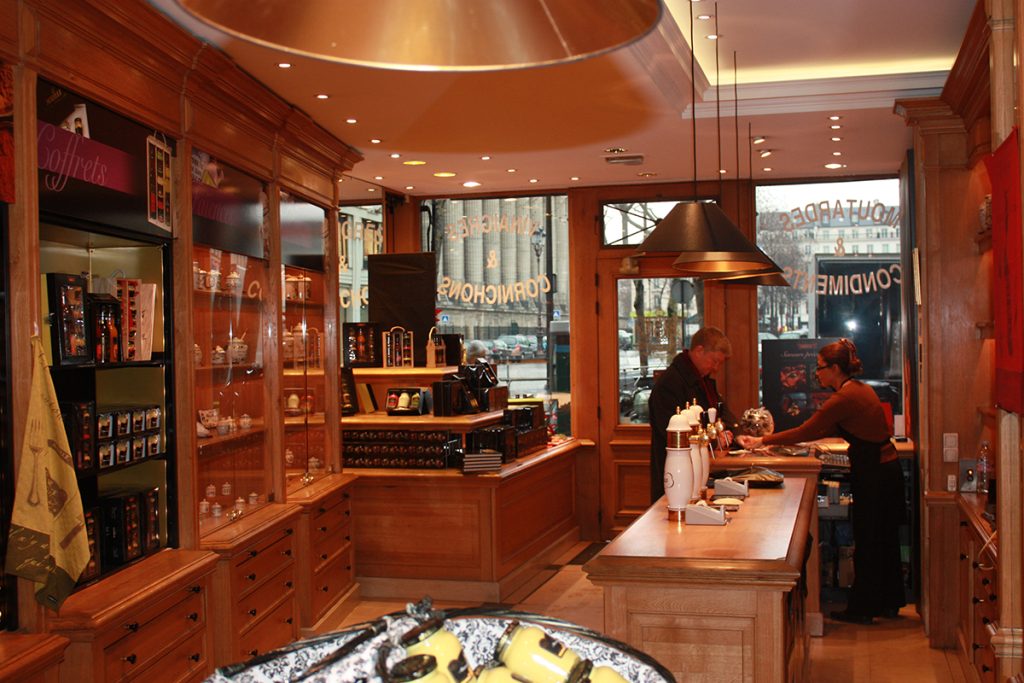 Mustard on tap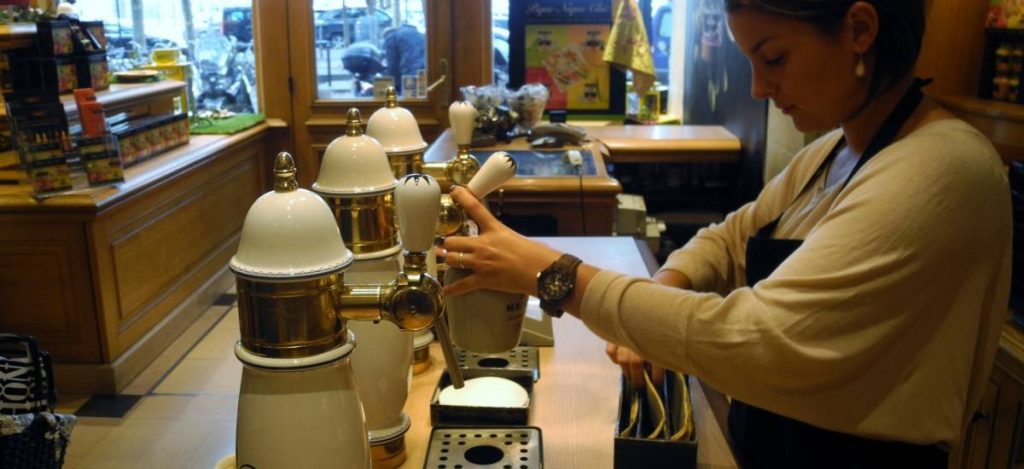 The first thing you should know about this Burgundy-based specialist is that it serves fresh mustard on tap, like a bartender serves beer:
Chablis and black truffle mustard
Chablis mustard
Wholegrain Chardonnay mustard
White wine mustard
Sauternes mustard
My two favourites are the first and the last ones.
For the first mustard, the scent of black truffle is strong, with a long finish. It pairs nicely with Chablis (a white Burgundy wine). But please note that this product is only available part of the year, depending on the truffle season.
My other favourite is the Sauternes mustard. Sauternes is a white, late-harvest Bordeaux wine with a very fruity, sweet flavour. It makes for an equally fruity and very soft-flavoured mustard.
Sustainable shopping and high-quality products
The boutique sells really elegant stoneware jars that may be reused and refilled in the boutique. The jars are available in two sizes. The price of mustard on tap is lower if you save your jar and bring it back. So each time you travel to Paris (or New York or London!), make sure to bring your stoneware jars with you.
On the other hand, you can also simply save the jars and fill them with whatever you like. They will always be more decorative than a mustard jar from the supermarket.
The boutique also has a wide assortment of mustards in every flavour. Some are available for tasting. Maille prides itself on constantly seeking new flavour combinations and its collections change on a regular basis. The vinegars are also excellent. One of the secrets to the perfect salad is starting with high-quality ingredients. Maille offers a wide range of flavours that will give a unique touch to your salads and other dishes, to the delight of your friends. Don't forget to pick up one of the leaflets with menu ideas while you're at the boutique.

Create your gift
You can mix and match the mustards and vinegars of your choice to make a personalised gift. The boutique offers an array of lovely boxes and paper bags to wrap them. The end result? A sleek, chic and oh-so-Parisian gift that is the pinnacle of French culinary art. Your friends and family will adore their customised, one-of-a-kind, elegant gift: who doesn't love good food?
The only problem is that the boutique is extremely popular and receives a lot of visitors. It's best to go during the week or, failing that, on a Saturday morning rather than in the afternoon. There has only been one instance when I received less than stellar service while at the boutique. Other than that, I would rate their service quality very highly. The sales staff speak English and are well-trained, very polite and extremely efficient.
So don't delay, try a new Maille mustard today!