In this article, we bring you 4 great ideas for Christmas in Paris. in 2023. If there's one place to experience the magic of Christmas, it's Paris!
The City of Lights shines brighter than ever at this time of year. Follow us as we share our 4 favorite experiences to experience the magic of the festive season.
Traditional Galeries Lafayette Christmas window displays in 2023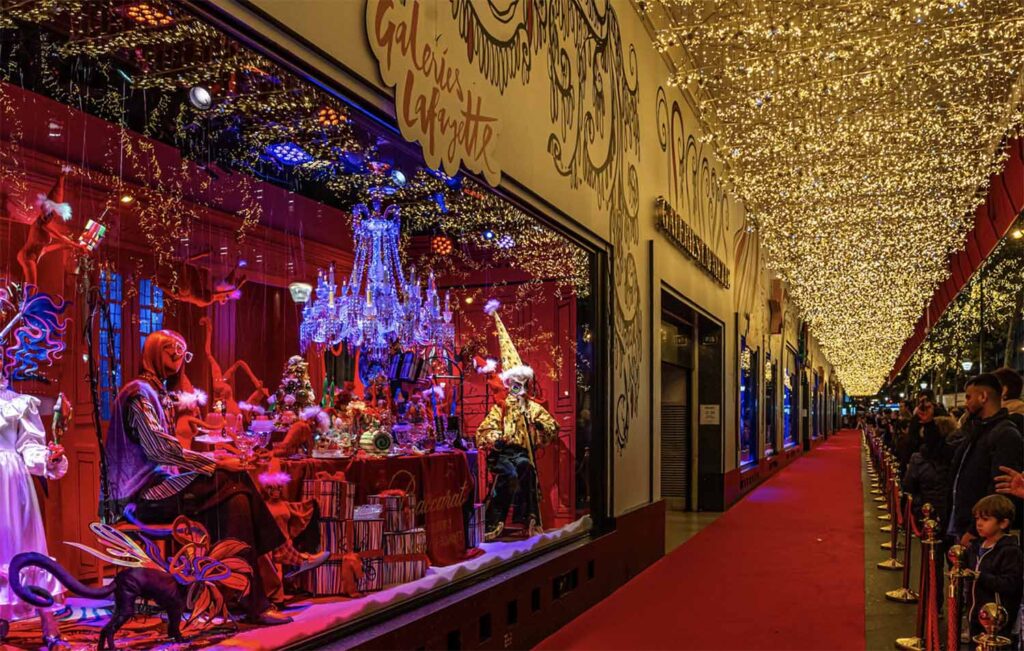 Since November 15, Galeries Lafayette Paris Haussmann has been in CHRISTMAS mode. True to tradition, since mid-November the Galeries façades have been decked out in their finest decorations.
This year, the department store entrusted the reins of this magnificent work to couturier Charles de Vilmorin. The designer tells a fairytale tale of a little girl and a magic paintbrush who travel to an imaginary land to discover their dreams.
As every year since 1976, you'll also be able to admire a fir tree over 15 m high beneath the iconic dome!
It's beautiful, it's chic, it's magical. And it's just 700 m from the hotel.
Galeries Lafayette
40 Boulevard Haussmann
75 009 Paris
https://www.galerieslafayette.com/
The King's tour of the Château de Versailles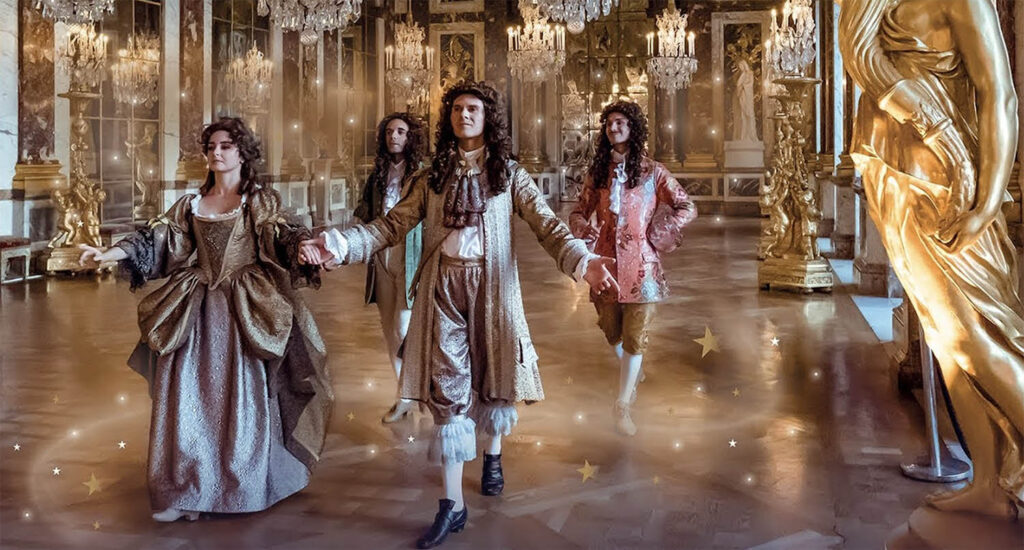 As night falls and the day's visitors disperse, the Château falls silent again… and the tour begins.
From the Galerie des Glaces to the Grands Appartements, musicians, dancers, singers, fencers and actors take you on an unforgettable visit to the heart of the Château. A truly wonderful experience, from December 7 to January 16.
And to top it all off, the show ends with a fireworks display in the gardens. It's magical!
Price: from €32 to €49 (for prestige tickets)
Château de Versailles
Place d'Armes – 78000 Versailles
https://www.chateauversailles.fr/
Night stroll in the Jardin des Plantes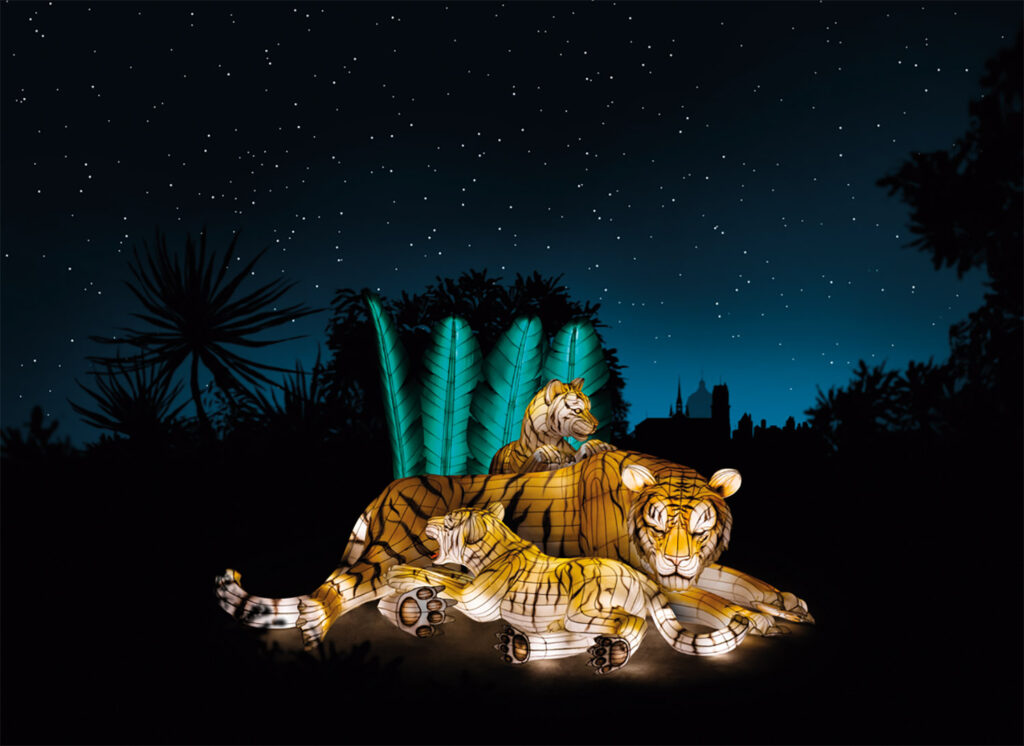 When night falls, the Jardin des Plantes is transformed into a veritable jungle!
Stroll among these giant, luminous creatures and venture into the flora and fauna of tropical forests… From November 22 to January 21, the "Jungle en voie d'illumination" trail welcomes you for a unique experience that will appeal to young and old alike. A walk lined with fearsome felines, astonishing frogs and giant flowers.
Price: €15 to €18
Jardin des Plantes de Paris
Place Valhubert- 75 005 Paris
https://www.jardindesplantesdeparis.fr/en
Le Noel enchanté de Disneyland Paris en 2023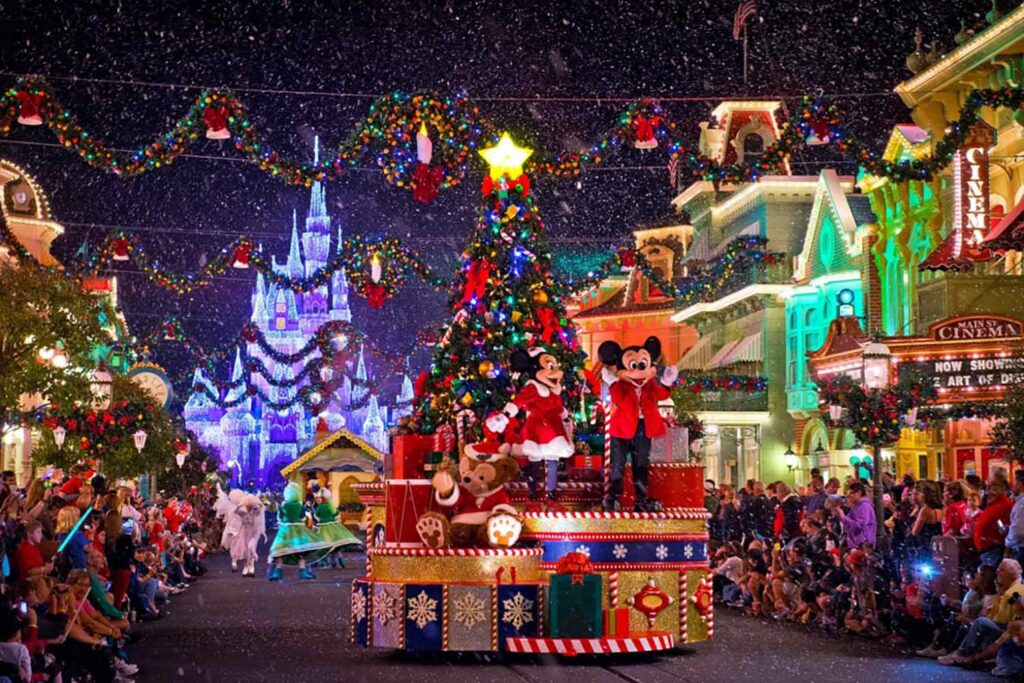 From the beginning of November, Disneyland Paris Park is transformed into a veritable Christmas story. A majestic Christmas tree rises to a height of 24 m, proudly dominating the park. Main Street U.S.A. is sprinkled with a delicate layer of snow, while glittering garlands adorn every corner of the park, immersing visitors in a fairytale atmosphere. The traditional parade also brings to life all the magic of this particularly enchanting season.
A unique experience for all ages (because yes, sometimes it's good to see dancing candy canes and gingerbread men).
See you until January 7!
Price: from €64
DisneyLand Paris
Boulevard de Parc – 77700 Coupvray
https://www.disneylandparis.com/